Research led by the University of Sheffield aims to reveal the long-term consequences of young people's early labour market experiences for their careers, health and wellbeing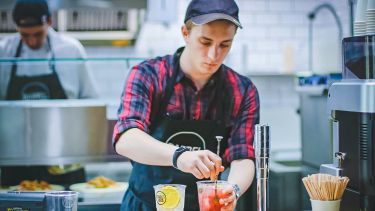 A team of researchers from the departments of Economics, Management and Sociological Studies at the University of Sheffield are about to embark on a three-year programme of research that will examine the long-term consequences of young people's employment and labour market experiences for their careers, earnings, health and wellbeing.
Funded as part of the Economic & Social Research Council's (ESRC) Transforming Working Lives programme, the project will address two questions that are of critical importance to the future of work in the UK: 'how do the labour market transitions of younger workers affect their employment prospects, physical health and mental wellbeing at subsequent stages of their life course?' and 'how can the likelihood of positive, empowering transitions for younger workers be increased?'. The importance of these questions has been further highlighted by the negative impact of the COVID-19 pandemic on young workers.
The project will examine differences in the ability of younger workers to progress within the labour market and within their careers, comparing people who differ in respect of gender, race, ethnicity and disability and thereby enhancing understanding of diversity in labour market experiences and outcomes.
The project's principal investigator, Professor Jason Heyes from Sheffield University Management School, said "I am excited about our project's potential to show the long-term benefits and costs of young people's early experiences in the labour market. By collaborating with a range of stakeholders, we hope that our research will inform policies and practices that will lead to more secure transitions for young people."
Professor Peter Wright and Dr Bert Van Landeghem, co-investigators from the Department of Economics, said "The increasing richness of available data that follows individuals through school and into employment will allow us to have a much deeper insight into what factors affect an individual's employment prospects and wellbeing. We will be able to examine the role played by education and family background as well as gender, ethnicity and different capabilities."
The world of work is changing rapidly. Understanding how and why it is changing, and how this affects workers' lives, will help policymakers, businesses and employees to navigate key challenges, including how to help people to progress in their careers and how to enhance gender equality in the workplace. These seven new research projects will collaborate and coordinate with one another, enhancing the collective impact of ESRC's investment.

Professor Alison Park

Interim Chair of ESRC
The project team, which includes the Chartered Institute of Personnel and Development (CIPD), will work with other policy and practitioner organisations, including the Department of Work & Pensions and the Mayoral Combined Authorities of Greater Manchester and South Yorkshire, to create policy-relevant insights and resources that will address barriers to progression in employment and support young workers' transitions to better jobs.
---
Flagship institutes
The University's four flagship institutes bring together our key strengths to tackle global issues, turning interdisciplinary and translational research into real-world solutions.