At Sheffield, you will engage in continuous training with ample development opportunities to support your growth as an independent researcher.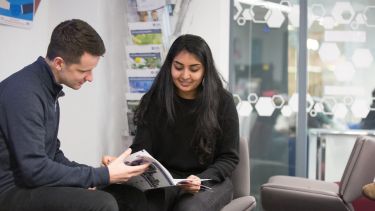 In addition to formal training resources, your supervisor will nurture your development as an expert in your field, and you will be part of a wider community of scholarship which provides a collegial atmosphere in which to develop as a researcher.
The Sheffield graduate is well rounded, engaged in outstanding socially-responsible research, and fully equipped for a successful career in academia or industry.
Doctoral training programmes
At Sheffield you will benefit from access to multiple doctoral training opportunities available on-line and face-to-face. Provided by the University, the Faculty of Social Sciences, and the White Rose University Consortium, each of these programmes provide training to develop your skills as a researcher. 
Doctoral Research Conference
The Management School hosts a doctoral conference which is an opportunity for our doctoral researchers to present and receive feedback on their research in a supportive atmosphere. It is an opportunity for our students to develop their presentation skills as well as to learn from the research of others. 
Northern Advanced Research Training Initiative
Sheffield is a member of NARTI which provides specialist advanced training to our students through events, retreats and conferences with the aim of establishing networks to share cross-regional expertise.
Library services
The library also provides training for research students in finding and managing information and resources, communicating and dissemination of research, and impact.
Find a PhD
Search for PhD opportunities at Sheffield and be part of our world-leading research.