New report assessing the UK's gender equality practices in Iraq to launch in parliament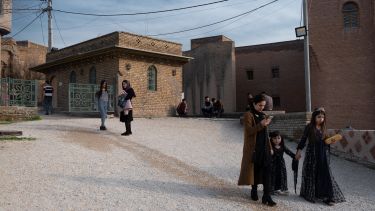 Dr Zeynep Kaya's report 'Listening to Iraqi Women's Rights Organisations: UK's Gender and WPS (Women, Peace and Security) practice in Iraq' is the result of her Knowledge Exchange and Impact project supported by the UKRI Research England Higher Education Innovation Fund. The project aimed to assess the UK's gender equality practice in its security and development policy in Iraq and compare it to other donors' approach. 
The report, jointly written by Dr Zeynep Kaya, Dr Ilham Makki (Iraqi women's rights activist and anthropologist), and Eva Tabbasam (Director of Gender Action for Peace and Security) follows fieldwork in Iraq with women human rights defenders and women's rights organisations, and an evidence-driven conversation with women's rights activists and the representatives of FCDO, UN and INGOs. Discussions highlighted how international funding in Iraq has expanded spaces for women's issues to be discussed, but also highlighted hierarchical and non-transparent dynamics between Iraqi organisations and international actors as well as issues with how the funding is distributed. This report provides practical short and long-term recommendations on best practices and approaches to ensure that the priorities and self-identified needs of women and girls are placed at the centre of all future UK policy and programming in Iraq.
Where gender is included in foreign policy, the aim should not be to make 'security' and 'development' policies more effective. Instead, a gender perspective should be included to critically assess foreign policy, to avoid one-size-fits all approaches, and, most importantly, to prevent these policies from causing harm and perpetuating hierarchies and privileges.

Dr Zeynep Kaya
This report will be launched in UK Parliament on 10 October 2022 by the All-Party Parliamentary Group on Women, Peace and Security (WPS) where Dr Zeynep Kaya, Dr Ilham Makki and Suzan Aref, Director of the Women Empowerment Organization in Iraq, will speak. The event will provide a platform at the UK Parliament for Iraqi women's rights defenders to directly speak to UK officials and civil servants and share their views on the UK's and the wider international engagement in Iraq. In addition, Dr Kaya will share the project findings, which are also published in the policy report. Through this engagement, the event aims to influence the ongoing revision of the UK's National Action Plan on WPS, in which Iraq is a focus country. 
Listening to Iraqi Women's Rights Organisations: Full report
Flagship institutes
The University's four flagship institutes bring together our key strengths to tackle global issues, turning interdisciplinary and translational research into real-world solutions.