Politics and International Relations at Sheffield recognised for advancement of gender equality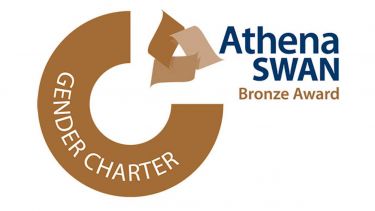 The Athena Swan Charter celebrates success in advancing gender equality in higher education and research. It rigorously examines the steps taken by universities and their departments to improve representation, encourage progress and combat gender-based discrimination.
From May 2015, the Charter was expanded to recognise work undertaken in arts, humanities, social sciences, business and law as well as professional and support roles, and for trans staff and students. The Charter now recognises work undertaken to address gender equality more broadly, and not just barriers to progression that affect women. This relates well to our broader departmental and institutional focus on Equality, Diversity and Inclusion (EDI), specifically gender equality, race equality and disability equality. This award was made under the new Athena Swan transformed framework. 
Download our Athena SWAN Bronze Award application (PDF, 1.16MB)
Dr Kate Dommett, who leads on Equality, Diversity and Inclusion in the Department as part of the University's 'One University' pillar said:
This award is a real testament to the Department's investment in EDI in recent years and the work of the EDI Committee and Athena Swan self-assessment team. As our application shows, we've taken concrete steps to prioritise equality, diversity and inclusion within our Department. Our action plan outlines an ambitious programme of change, and we look forward to bringing this to fruition over the next 5 years.

Dr Kate Dommett

Senior Lecturer in the Public Understanding of Politics
Head of the Department of Politics and International Relations, Professor Ruth Blakeley, said:
Over the last few years, the Department has invested considerably in accelerating progress on equality, diversity and inclusion, with real strides made in supporting the recruitment, career development and progression of women colleagues. Working towards Athena Swan Bronze has helped us focus more sharply on intersectionality, which will be key to progressing our EDI commitments as we build on this important recognition of our work so far.

Prof Ruth Blakeley
A world top-100 university
We're a world top-100 university renowned for the excellence, impact and distinctiveness of our research-led learning and teaching.