Katie Pruszynski
Department of Politics and International Relations
PhD research student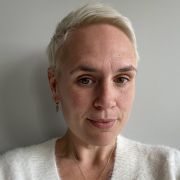 kmpruszynski1@sheffield.ac.uk
Elmfield Building
Full contact details
Katie Pruszynski
Department of Politics and International Relations
Elmfield Building
Northumberland Road
Sheffield
S10 2TU

Profile

Katie is studying for a part-time PhD, whilst continuing in her role as a Senior Knowledge Exchange Associate for the Faculty of Social Sciences at the University of Sheffield. Her professional background includes five years as a political communications and campaigns consultant, and five years as the senior parliamentary assistant to an MP.
Qualifications

MA Political Communications (Goldsmiths College),

BA Hons Politics (University of Nottingham)
Research interests

PhD Title: Truth Matters? A study of lying and the truth in political communication, and its impact on public trust in politics 

PhD Supervision Team: Dr James Weinberg (Primary), Professor Charles Pattie (Secondary)

Katie's research looks at the impact of elite lies on democratic health, using the case study of the 2020 US Presidential election and its aftermath. Her investigation conceptualises a new type of lie, exploring how this relates to polarisation and the breakdown of societal trust, and what impact this has on democratic health in the US.