Ms Anna Leyland
MSc BSc AFHEA
Department of Sociological Studies
Research Associate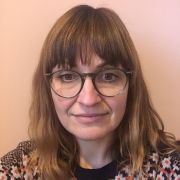 a.f.leyland1@sheffield.ac.uk
Elmfield Building
Full contact details
Ms Anna Leyland
Department of Sociological Studies
Elmfield Building
Northumberland Road
Sheffield
S10 2TU

Profile

Anna joined the Department of Sociological Studies in January 2021 as a Research Associate in the Centre for Loneliness Studies. She is working on the service evaluation of the Time to Shine project. The Time to Shine project is based in the city of Leeds, and was funded by the Ageing better funding stream of the National Lottery community fund. The Time to Shine project aims to reduce loneliness and social isolation of people aged over 50 in the city. 

Anna is also studying for her PhD in the Department of Psychology at the University of Sheffield, which she is due to complete in Spring 2021. Her research interests include mindfulness for children and young people, and for mothers in the perinatal period. More broadly she is interested in social determinants of health and wellbeing across the life course, with a particular interest in the perinatal period and childhood. 

Anna has previously worked as a research assistant at York St John university, as a Multi-Systemic Therapist in Sheffield and a young person's Mental Health Advocate in Sussex.
Research interests

Service evaluation of the Leeds Time to Shine project - 2015-2021 - Funded by Ageing Better, National Lottery Community Fund.

This service evaluation uses survey data from around 800 respondents and interview and focus group data to examine the effect of the Time to Shine projects on loneliness, social isolation and wellbeing.

Mindfulness meditation practices for self-regulation in children, young people and adults - 2013 - 2021 - PhD Teaching Fellowship, Department of Psychology.

This research is looking at the effect of mindfulness meditation on self-regulation. In particular the research has included a systematic review and meta-analysis of existing evidence and two experimental studies conducted in school with children aged 4-11 years.

The protective value of mindfulness in the perinatal period - 2020-2021 - University of Amsterdam.

This research uses a cohort sample of women across the perinatal period and is examining the potential protective effect of trait mindfulness on anxiety.
 

Anna's main research interests are:

Mindfulness and self-regulation
Child and adolescent mental health and wellbeing
Health and mental health in the perinatal period
Loneliness and social isolation
Social determinants of health and wellbeing
Publications