At Sheffield, we give all staff the opportunity to get involved with sustainability projects to green their workplaces and support the local community.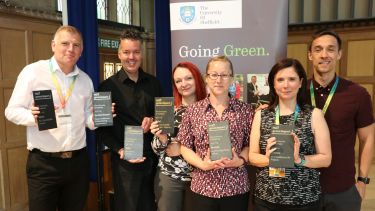 What is Green Impact?
Green Impact is an NUS affiliated scheme for university staff across the country to get involved with sustainability projects to improve their work environment. At Sheffield, we have active teams across campus that have made a real impact raising money for local charities, in growing food, reducing energy consumption and educating staff about sustainability. 
When completing the online workbook, teams work through different levels of Bronze, Silver and Gold to gain an award for their efforts. At the end of the academic year, it is time to reward these achievements at the Green Impact Sustainability Showcase where staff and students can come together to celebrate the positive change they have created.  
---
10 Years of Green Impact
The University of Sheffield has taken part in Green Impact since 2009/2010, as part of our behaviour change strategy to reduce our carbon emissions. Over the 10 years of Green Impact projects at Sheffield, we have saved 3 million kg of CO2 through these staff sustainability projects.
---
Projects 
Some projects have included our Arts Tower Blackout where the University's iconic building was cast into darkness to save energy, a thermal imaging project to visualise heat loss in University buildings, planting vegetables in University grounds and litter picks across campus and the city. In recent years, departments have taken increasing control of their Green Impact projects allowing staff to get more involved and shape their department's approach to sustainability. 
Green Impact is a great way of staff getting directly involved in changing sustainability outcomes on the ground and in their workplaces! 
Our sustainability strategy
We have set the principles and direction for our sustainability strategy