At Sheffield, we give all staff the opportunity to get involved with sustainability projects to green their workplaces and support the local community.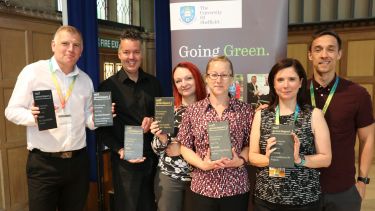 Off
What is Green Impact?
Green Impact is a nationally recognised programme run by SOS-UK, that encourages and supports sustainable practices to be implemented by staff and students at the University. This vibrant scheme breaks down the complex sphere of sustainability into simple, manageable actions and creative projects, with the aim of supporting the teams to improve the sustainability performance of the departments at the University.
Teams throughout the organisation are given access to an online toolkit comprising actions targeted at helping to create a more sustainable workplace. These actions align with the University's Sustainability Strategy and Action Plan, and are straightforward to implement. Support is provided to the teams throughout the Green Impact cycle. Once the toolkits are submitted, teams are audited by trained student auditors to ensure the points that the teams receive are accurate. All participating teams will be rewarded for their efforts and depending on their performance will be awarded a 'Working towards Bronze', Bronze, Silver or Gold award.
---
Green Impact at Sheffield
The 2023/24 year represents the 15th year of the Green Impact programme at Sheffield. 
Over the years, our Green Impact teams have made a real impact across campus in many areas including reducing energy consumption, enhancing biodiversity on campus, raising money for local charities, and reducing waste entering landfill. 
The programme has also offered our Green Impact team members the opportunity to increase their sustainability knowledge and skills, to do something different and impactful at work, and to get to know colleagues that they would not usually work with, from across their departments. 
---
Sheffield staff experiences of Green Impact
It has been so lovely to get to know people across the department who have shared views and to be able to work together to help make our work environment more sustainable. I chose to become a part of Green Impact as I am always seeking new ways to live more sustainably and as work takes up a large part of my daily life, it was the perfect opportunity to merge the two." 

Strategic Planning and Change team member
The Green Impact scheme is an important way to raise awareness of sustainability issues and bring together staff across departments to make a difference. The scheme is also an excellent opportunity to collaborate with a range of staff that I would not usually work with, giving me the chance to further build my working relationships across departments." 

Landscape & Architecture Green Impact team member
I got involved with Green Impact because I'm interested in sustainability and improving the environment to ensure we have a healthy planet. Green Impact is about taking small steps to reduce our personal impact on the environment, which contributes to the wider environment. It's about coming up with fresh ideas and sharing best practice in the hope that these can be implemented elsewhere too." 

Accommodation and Commercial Services team member
Contact
To find out more about getting involved with Green Impact, please email greenimpact@sheffield.ac.uk.
Our sustainability strategy
We have set the principles and direction for our sustainability strategy