SDG10: Reduced Inequalities
The University recognises the inequalities in society, and how this affects different groups locally, nationally and globally, we are committed to reducing these inequalities.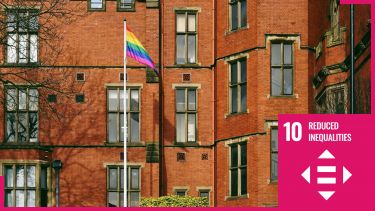 Global inequality has increased exponentially due to Covid-19, and the war in Ukraine adding to the refugee crisis which has displaced millions of vulnerable people. The University has introduced measures to help those most affected. 
Key facts for how we are achieving SDG 10
Gender, race, LGBTQ+ equality and disability inclusion strategies to reduce inequalities
Our Discover programme helps students from widening participation backgrounds to understand what going to university is like
Sanctuary scholarships for students who have experienced war or persecution in their home countries
1172 students starting their degree at Sheffield who are the first generation in their family to attend university in 2021
118 international students from developing countries in 2021
4,451 students and 508 members of staff with a disability in 2021
TUoS Department of Sociological Studies contribution to a report by Northern Health Science Alliance (NHSA) and N8 Research Partnership (N8) highlighting the widening inequalities amongst young children in the North of England following COVID-19, seeing a 27% chance of Children in the North living in poverty compared to 20% in the rest of England
---
Race equality
In 2021 we launched new iterations to our Race Equality Strategy and Action Plan, which aims to improve the representation, progression and success of Black, Asian and Minority Ethnic (BAME) students and staff through the creation of an even more culturally inclusive and diverse University community. One of the key objectives is to close the ethnicity awarding gap between BAME students and white students at the University, which stood at 8.5 per cent in 2018. Other ways in which we are improving race equality can be found here.
University of Sheffield Centre for Equity and Inclusion
In 2022 the University of Sheffield launched the Centre for Equity and Inclusion, aiming to enhance the university experience for BAME postgraduate students through a wide range of programmes. These programmes include: professional development, reflective and creative practice, and collaborative projects with local organisations invested in racial and social justice. This three-year project will establish an expert network of postgraduate research students, University of Sheffield academics, and local partners, and will develop a resilient and sustainable network capable of creating significant systemic and cultural change within higher education.
Disability Inclusion
This year we have launched our new Disability Equality Strategy and Action Plan, which sets out to improve the representation, progression, retention, experience and success of disabled students and staff at the University, transforming the University of Sheffield into an institution of choice for disabled people. Some of the main objectives are to attract and retain disabled staff, create an accessible campus and provide a clear pathway of equitable support for disabled students. Other ways in which we are improving race equality can be found here.
LGBT+
We're working hard to create an inclusive University for lesbian, gay, bi and trans staff and students. One example of our work is Open@TUoS, a network which aims to empower all staff to help create an open, inclusive environment for LGBT+ colleagues and students at the University. Supporters do this by sharing information, encouraging people to take part in LGBT+ events and training and by encouraging staff to actively and visibly support LGBT+ inclusion.
Gender Equality 
To find out more about what we are doing to tackle gender inequality at Sheffield, you can access SDG 5: Gender Equality.
---
Supporting refugees
The University of Sheffield has pledged over £1 million to support students, scholars and other staff who are seeking sanctuary in the UK or affected by war in their home countries. The scholarships are available for students for example from Ukraine who are either able to transfer to Sheffield from a university in Ukraine or would like to join as a new student from September. The University has been offering scholarships to asylum seekers and refugees for a number of years and has previously supported students from a number of countries facing war, including Syria, Palestine and Iraq.
---
Inequalities in healthcare provisions
A review carried out by NHS Race and Health Observatory, University of Sheffield, Manchester and Sussex, reveal stark ethnic inequalities in healthcare services. These services include mental health, maternity care, genomic medicine, digital access to healthcare and within the NHS workforce. Within over 13,000 research papers, 178 studies were identified to highlight ethnic inequalities within NHS healthcare including poor access, experiences and outcomes for ethnic minority patients. Racist treatment amongst NHS healthcare professionals of ethnic minorities patients compared to White patients was apparent within this review in all key aspects of the healthcare services focused on within this review. Recommendations for further research and actions to address the ethnic inequalities are spotlighted within the review.
Widening inequalities in the North
Mapping food insecurity
Research conducted by Dr Megan Blake and Dr Adam Whitworth, at the University of Sheffield Institute for Sustainable Food, worked with Dr Angelo Moretti at Manchester Metropolitan University to model data from the Food Foundation, and for the first time were able to identify food insecurity at a local authority scale.
The academics have mapped areas worst hit by food insecurity in the UK, identifying people who are affected by food shortages and who are struggling to access food.
Child poverty 
A major new report paints a stark picture of inequality for children growing up in the North of England post-pandemic compared to those in the rest of the country.
Sarah Salway, Professor of Public Health from the University of Sheffield said: "Our analysis across the piece highlights the intersection of socioeconomic deprivation and racial discrimination impacting the lives of ethnic minority children who continue to be overlooked in much local and national policy."
A full copy of the report can be found here.
Our sustainability strategy
We have set the principles and direction for our sustainability strategy