10 million ha of forest land is deforested every year, endangering biodiversity and ecosystems. Protecting, restoring and promoting sustainable biodiversity is our mission through research and policy to tackle devastating threats to our planet, to ultimately achieve a greener and sustainable future.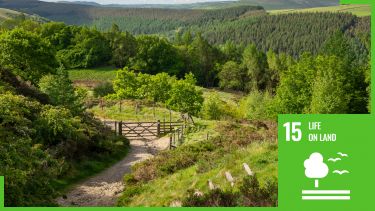 Off
Key facts for how we are achieving SDG15
The University campus features over 10,000 trees
The University maintains 1000m2 of perennial meadow habitat
9 green roofs around the University provide biodiversity havens in the centre of Sheffield
Through our biodiversity action plan we aim to add a net gain in biodiversity through every development
---
Biodiversity Action
The University's Biodiversity Action Plan seeks to protect and develop biodiversity across campus and throughout the city. The University recognises the importance of biodiversity as earth's life support system providing clean water and air, and acts as a vital method for staff and students' psychological wellbeing.
Biodiversity on Campus
The Estates and Facilities Management Team have lots of strategies in place to protect and enhance biodiversity across the campus. These range from using locally sourced peat-free compost to creating micro-habitats using differential mowing. All tree and hedge maintenance takes place outside of nesting season to minimise disruption to local wildlife.
Coffee and Roastology
Coffee powers untold amounts of research and learning at the University of Sheffield. All of the coffee in cafes across campus comes from Roastology, who source it directly from a cooperative in the Cauca region of Colombia. Researchers from the department of Animal and Plant Science are studying the rich biodiversity in this region, and working alongside members of the cooperative to develop ways to improve supply chain challenges in an ecosystem-led way.
---
Bradfield Environmental Research Centre
Located on the edge of the Peak District, the Bradfield Environmental Research Centre is a key site for fieldwork, learning and research. The site itself is made up of nine distinct types of habitat including woodland, grassland and heath areas. This variety means that there is a very high density of invertebrates around the Bradfield Centre, making it a great study location that needs to be carefully looked after. As the area is in frequent use, an ongoing data-driven environmental management plan is in place to make sure it remains a safe, biodiverse habitat for all of the species that live there. 
Measuring Our Forests
Researchers from the School of Mathematics and Statistics have teamed up with the ESA to help with the BIOMASS project, a mission to measure forests from space. Launching in 2023, the BIOMASS project will use cutting-edge radar technology to create 3D maps of tropical forests and measure the amount of wood contained in them, from 600km above the forests themselves. Tropical forests are difficult to measure using earth-based methods because they're large and inaccessible, so this project will provide new information that's vital to working out how much carbon is stored in the world's forests, as well as other information about forest ecosystems and climate change.
Sustainable Crops
Research by environmental biologists and ecologists at the University of Sheffield is investigating how we can find balance between using pesticides to help us feed the planet, and protecting land and water ecosystems. Through research carried out, it is more evident the effects pesticides have on certain species and on wider ecosystems.
Lower rates of deforestation on protected Indigenous land 
Researchers from the University of Sheffield found that deforestation and degradation of land is much lower on land protected by Indigenous peoples in Asia, Africa and Latin America. This is first of its kind to research the three continents collectively. In Latin America, deforestation was higher in non-protected lands compared to protected lands by Indigenous. Deforestation has been strongly highlighted in the recent COP26 Glasgow Conference, with over 100 countries pledging over £14 billion to end deforestation by 2030.
Our sustainability strategy
We have set the principles and direction for our sustainability strategy