SDG3: Good Health & Wellbeing
We are world-leaders in teaching and research in clinical and health subjects, benefitting local, national and global communities. Our university is ensuring access to good health and wellbeing for all, at every stage of life.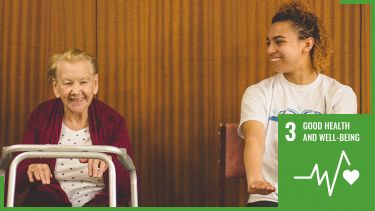 Key facts for how we are achieving SDG3
1,051 graduates at all levels in health professions in 2021
A top-100 world university for health and clinical subjects and is one of few universities in the country offering students to undertake full-body anatomical dissections
One of the oldest medical schools in the country, founded in 1828
43% of our medicine and health research ranked as world-leading by the Research Excellence Framework
The University continues to adopt the the University Mental Health Charter
Free access to University sports facilities for asylum seekers and refugees
Sports taster sessions for hundreds of local school children run by student volunteers
The pandemic has severely disrupted essential health services, shortened life expectancy, and exacerbated inequities between countries and people in access to basic health services, threatening to undo years of progress in some health areas. The University is working tirelessly to help reverse the negative impacts of Covid-19. Whether it is facilitating projects to help refugees produce their own reusable PPE or by carrying out essential scientific research to improve the length and quality of people's lives, the University is making sure the health and wellbeing of the local and global community is maintained.
A team of researchers from the University of Sheffield have collaborated with Universities in Jordan to help Syrian refugees produce their own PPE. This project creates training and employment opportunities at a new mask production facility, while keeping people safe and reducing plastic waste. We have also carried out research investigating the challenges of Nepal's decentralisation of the healthcare system, focusing on how this restructuring has affected the delivery of healthcare during COVID-19 and helping co-develop recommendations for healthcare policy and practice.
---
Sheffield is ranked within the top 100 in the world (Times Higher Education (The) World Subject Rankings 2021), offering degrees in Medicine, Dentistry and other health related courses. The Medicals School's patient-centred approach aligns the University's commitment to our Patients as Educators programme giving students the opportunity to learn from real patients.
This programme is internationally recognised as the largest of its kind in the world, with more than 800 patients and volunteers involved.  Alongside this, TUoS is one of few universities in the country to offer students who study Medicine, Dentistry or Biomedical Science the chance to undertake a full-body anatomical dissection.
Benefiting students
Medical students at the University of Sheffield have the opportunity to take part in a six-week Social Accountability project, where students volunteer with various organisations and charities across South Yorkshire providing support to the most vulnerable.
Some students have volunteered at Heeley City Farm to support young people and those with dementia through their 'Farming Comes To You' initiative which involves Animal Assisted Therapy. The farm is dedicated to working with young people, adults with learning disabilities and the local groups to promote regeneration, environmental education, energy efficiency and overall health.
---
The Healthy Lifespan Institute (HLI) at the University of Sheffield is made up of over 140 world-class researchers and 30 departments to tackle the global epidemic of multimorbidity - the presence of two or more chronic conditions - to help everyone live healthier, independent lives for longer and reduce the cost of care.
We work with national, international and regional organisations to apply our knowledge and share these outcomes across the UK and globally, as our expert academics hold key roles in medical societies in the UK and Europe. Together we will pioneer new medical treatments and approaches to healthy ageing, help individuals make informed lifestyle choices, and work with governments and other institutions to try to ensure that everyone can lead an independent, fulfilling life for longer.
Further research the Institute has carried out can be found.
---
Sheffield Institute for Translational Neuroscience (SITraN)

Other research by one of the world leading centres for research into neurodegenerative diseases, the Sheffield Institute for Translational Neuroscience (SITraN), uses genetic therapy to make breakthroughs in treatment for diseases like motor neurone disease, dementia and Parkinson's Disease.

In particular the Head Up collar, created by researchers led by professor Chris McDermott from the University of Sheffield, has supported those affected by motor neurone disease. Their patient-centred approach has improved patients' quality of life and allowed them to continue living the life they want for longer. More than 80% of patients reported they could eat, drink and read comfortably, knowing that their head and neck were fully supported. As a result, The Head Up collar has been rolled out across the NHS and at least 25 trusts across the UK and around the world including Europe, The United States, Canada and Australia. 

National Centre for Sports and Exercise Medicine (NCSEM)

The University of Sheffield is one of a number of partners within the NCSEM Sheffield Hub, which aims to support increased physical activity and improved health and wellbeing across the region.The NCSEM is focused on the design, implementation and evaluation of whole system approaches to increasing physical activity across the population.

The Legacy Plan has four themes: sporting, economic, cultural and environmental. Sheffield's NCSEM resources include NHS clinical and research facilities in three community leisure centres, hosting conferences and seminars to support collaboration, as well as a network of active researchers nationally in the field of physical activity and health.

Restrictions on junk food advertising prevent almost 100,000 obesity cases

New research from the University of Sheffield and the London School of Hygiene & Tropical Medicine (LSHTM) have found that new policy on junk food advertising restrictions on Transport for London networks will prevent almost 100,000 obesity cases. This in turn is expected to save the NHS £200m over the lifetime of the current population.
Our sustainability strategy
We have set the principles and direction for our sustainability strategy