About the Department of Molecular Biology and Biotechnology
The Department of Molecular Biology and Biotechnology is based in Firth Court, the historic home of the University of Sheffield.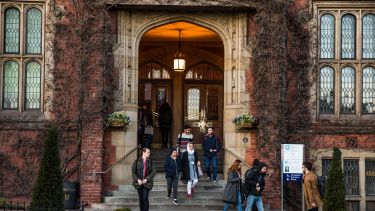 Our research
Many of our scientists are following in the footsteps of Sir Hans Krebs, our first Professor of Biochemistry, who was awarded the Nobel Prize in Physiology or Medicine in 1953 for his discovery of the citric acid cycle, known as the Krebs Cycle. His legacy continues in the work of the Krebs Institute, a mechanistic biology research centre that works on projects aimed at the greater understanding of biomolecular processes
Scientists based in Molecular Biology and Biotechnology also play a leading role in other flagship University of Sheffield research centres including the Florey Institute, which is addressing the challenges of infectious disease and antimicrobial resistance and the Imagine: Imaging Life project, which is pioneering new biological imaging technologies.
Our students
We are training the next generation of molecular bioscientist through our range of undergraduate degrees in Biochemistry, Genetics, Microbiology and Molecular Biology. We also run several masters courses and recruit new PhD students to support our research across the molecular biosciences.
Our facilities
The scientists and research centres based in Molecular Biology and Biotechnology benefit from access to state-of-the-art equipment and facilities. These include a Biological NMR Facility, a Biomolecular Interaction Suite, the Wolfson Light Microscopy Facility and the University of Sheffield's Biological Mass Spectrometry Facility.
A world top-100 university
We're a world top-100 university renowned for the excellence, impact and distinctiveness of our research-led learning and teaching.