Plants, Photosynthesis and Soil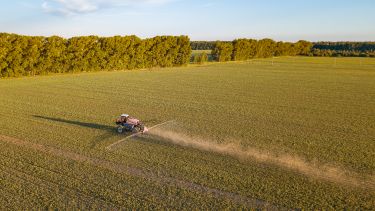 We study plants and soil, and their interactions with the environment across all scales, from fundamental mechanisms that underpin photosynthesis and development through to interactions with other organisms and climate. Our frontier and translational research tackles pressing global challenges in climate change, clean energy and manufacturing, and agricultural and urban sustainability.
To avoid dangerous climate change, global greenhouse gas emissions must reach net zero by 2050. Over the same period, global energy consumption will more than double, demand for crops is set to increase by 50%, and 20% more people will live in urban environments. Meeting the challenges of climate change mitigation, clean energy, global food security, sustainable agriculture and cities has never been more important. We address these critical issues through our fundamental and translational research. Our work provides new insights into how past, present and future climates impact plants and soils, and develops new strategies for greater sustainability in our use of the environmental resources that all life depends on.
Our frontier research tackles fundamental questions surrounding the molecular mechanisms of plant development and photosynthesis, and plant interactions with their environment, including interactions with other organisms in both natural and agricultural ecosystems. In soils, we examine microbial community dynamics and function, plant-soil feedbacks, and symbiotic interactions across a range of pathogens and beneficial microbes. Our research also covers larger scale, ecosystem-wide processes such as biosphere-atmosphere interactions and climate change impacts and feedbacks, as well as sustainable land-management practices such as regenerative agriculture. 
We translate insights from our frontier research into innovations in biotechnology and sustainable agriculture. Drawing inspiration from natural processes, we use nanotechnology and synthetic biology to capture and store solar energy, employ biochemical and biotechnological approaches to prime the plant immune system against pests and diseases, and deploy plant-microbial enhanced rock weathering to absorb atmospheric carbon dioxide. Our work is funded by a broad portfolio of awards from agencies including the ERC, Leverhulme Trust, the Royal Society, UKRI and GCRF, which support a community of international researchers.
---
Recent news stories
Key publications
---
For further information and research opportunities, please see the staff page of individual researchers below:
Professor Richard Leegood
---
World class facilities enable us to use the latest research techniques, including molecular genetics and epigenetics, metabolomics, imaging technologies, gas exchange analysis, stable- and radio-isotope analyses and plant growth analysis. Our fieldwork deploys advanced methods for analysing the cycling of C, N and P in agricultural and natural ecosystems, and the emissions of greenhouse gases to the atmosphere. We use remote sensing and numerical models to upscale plant and ecosystem processes to the Earth System, ensuring that our work is set in a truly global context.
---
Our research in plants, photosynthesis and soil is supported by and feeds into the following flagship research institutes and centres.
---
---
Flagship institutes
The University's four flagship institutes bring together our key strengths to tackle global issues, turning interdisciplinary and translational research into real-world solutions.