Arteries of the abdomen - creating an award-winning teaching resource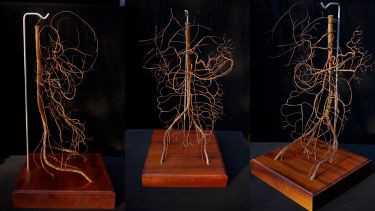 Whilst intercalating out of my third year of medical study, as part of my Human Anatomy with Education MSc at the University of Sheffield, we were given the task of creating an anatomy teaching resource. I was allocated with the arteries of the abdomen and the brief was to create a resource to teach our topic to the Biomedical Sciences students as part of their fortnightly practical sessions. 
Dabbling in model building, antique restoration and carpentry in my spare time meant that ideas of simply making a crossword, quiz or game were swiftly pushed to the back of my mind. I wanted to create a resource that would cater for a range of educational levels, something that I could use to teach undergraduates whilst also having the capacity to help my peers and even be used during surgical exam preparation. Wire bonsai sculptures acted as my initial inspiration but the logistics of attempting the abdominal vasculature seemed insoluble. 
My frustration, and that of my peers, with diagrams and prosections failing to clearly show abdominal vascular morphology, and their relationships within the vascular network continued to encourage me. Gradually, a theoretical construction plan started to form. The next daunting hurdle was the maths; as I wanted it to be life-size I had to calculate the number of strands of 0.6mm copper wire that would be needed to form a diameter similar to that in the average person. To recreate the branching vessels and tapering diameters, I wanted all strands to be continuous and originate from the aorta. To produce this I needed to ensure that there were sufficient strands for each vessel, so I carefully mapped them, planning the number of strands that would form each vessel. Accounting for shortening with twisting of the wire I estimated that I would need 1.75 meter lengths. Fortunately this wasn't a significant underestimation unlike my estimation for the build time, which ended up taking about 96 hours.
Electrical tape was used to partition strands that had been separated from larger vessels and to somewhat tame the writhing mass of copper wires. Nevertheless, detangling was frequent and disorientating. Sections were suspended to alleviate the hanging weight of the wire and stop it from distorting formed vessels. I wrapped electrical tape around the contact surfaces of two pairs of pliers to prevent tooling marks and used these in opposite directions to tightly twist the wires together.
790 meters of copper wire arrived in the post and I used a table as a larger diameter reel, using electrical tape and the legs of the table to transfer the wire onto it. This made it much more manageable as it helped straighten it out. I then cut it into 450 equal lengths. I made a plywood disc with 124 holes in, three to four strands of wire were inserted into each hole and this provided a firm grasp to twist the wires and form the proximal part of the aorta."
A range of resources, most notably Gray's Anatomy textbooks and BioDigital Human 3d were used to ensure accuracy. Suspending it from the rafters was crucial in forming and preserving the three dimensional and spatial arrangement. 
The base started as a rough sawn piece of Sapele. I routered the edges with a Roman Ogee bit to cut a classical decorative detailing around the edge. Holes of different diameters and angles were drilled for the stand, median sacral, internal and external iliacs, distal superior mesenteric, sigmoid branch of the inferior mesenteric and testicular arteries. Recesses on the base were then drilled with forstner bits to allow the vessels to be bent and secured. 
It was finished with Danish oil to compliment the hardwood's lovely golden dark reddish brown, and accentuate its striking ribbons and intriguing variety of grain patterns. 
Using a vice, I bent a piece of aluminium into a stand and suspended the aorta with surgical tendon repair wire. 
I wanted to inspire abstract reasoning in the students and alleviate the dependence on the colour coordination of vessels, which, as like traditional lecturing, fails to provoke thought; being recorded in a student's notes without passing through their mind first (Miller 1972). Focusing them on the pathways of the vessels, their connections and the cavities that they form, to stimulate higher cognitive processing, thus improving efficacy and efficiency of learning (Krathwohl 2002). Omitting labels as they would act as a crutch allowing surface learners to bypass logical deduction, limiting the taxonomic level of learning they attain (Biggs 2011; Krathwohl 2002).
I asked the students to trace branches with their finger following the direction of blood flow. Encouraging them to infer the names of each vessel based on organ location and inviting them to stand up and view it from different angles. I also created two adjuncts to complement their learning, the first was an image sort that fractionates long compound terms into everyday words e.g. a gastro pub, EpiPen and apron for the gastroepiploic artery. The second was asking students to create a simple model of the coeliac axis using pipe cleaners providing an opportunity to apply their knowledge and analyse the model in front of them; to both assess achievement of learning objectives and consolidate learning (Krathwohl 2002; Fox 1983). 
All students appeared to be highly engaged, intrigued and inspired by the teaching resource and its adjuncts which I believe are crucial characteristics of a successful educational experience.
---
Nick went on to win an award for his teaching resource. Reflecting on the process of creating "Arteries of the Abdomen" he told us:
"It was thrilling being awarded the International Anatomical Society's Open Art Award. It's funny that making the model was an idea that I thought was impossible, but was so unshakably compelling that I just couldn't stop thinking about it. By breaking it up, I tackled each logistical challenge independently, allowing me to make it a reality. At a number of times during the build, when I was too far to turn back, I was cursing my past self. I pressed on and completing it is one of the things I am most proud of, and winning the IAS award made it all that much sweeter! It certainly was a tremendous honor to have the judges describe it as "a true piece of art". 
"At times, throughout my studies, reducing a problem to its constituents has given me the clarity to perform. The work that went into it taught me a lot, invaluably contributing to securing a competitive Academic Foundation job.
"I would love to thank the IAS for the fantastic day at the Conference, and the UoS Anatomy MSc team for creating and running such a captivating course."
Weekly online events
Attend an online event when it suits you, all year round, as an alternative to an open day.
Every Wednesday, Sheffield Live sessions cover different aspects of University life. You can also meet your department and learn more about studying your subject.