Rebecca Corrigan Receives 2018 Lister Fellowship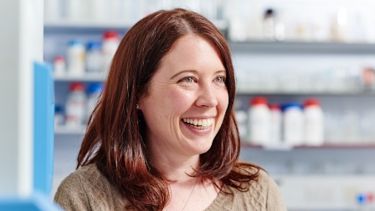 Dr Rebecca Corrigan was awarded the Lister Institute Research Prize 2018 in a ceremony and associated lecture on Friday 12th October. The Prize was awarded by Sir Alex Markham, Professor of Medicine at the University of Leeds, and former CEO of Cancer Research UK.
Dr Corrigan's lecture entitled: "Nucleotide Signalling Molecules - Key Players in Bacterial Stress Adaptation and Virulence" outlined her work on Staphylococcus aureus, a human pathogen responsible for a wide range of diseases around the world. The challenges posed by S. aureus have been exacerbated by the spread of antibiotic-resistant strains in, for example, the hospital superbug MRSA. Dr Corrigan's research focuses on the the role of the molecule (p)ppGpp in staphylococcal infections, using Zebrafish as a model organism to help inform the development of future treatments.
The Lister prizes are given to six future leaders in biomedical research each year, to fund cutting-edge research that will have a real impact in the field.
In accepting the award Dr Corrigan said:"Being awarded the prestigious Lister prize is a great honour. This fellowship gives me the support to expand my research into an in vivo setting, allowing me to investigate factors involved in the virulence of Staphylococcus aureus.
"In my laboratory we work on how bacteria deal with stressful environments, such as low nutrient availability or antibiotic treatment. The bacterial stringent response is the biological mechanism used by all bacteria to cope with these types of cell stresses. When exposed to unfavourable 'stressful' conditions bacteria respond by synthesising a compound called (p)ppGpp in their cells. Once synthesised (p)ppGpp is responsible for controlling a series of cellular switches leading to a downregulation of pathways involved in active growth and a population shift into a more persistent state.
"It has been shown that synthesising (p)ppGpp is vital for controlling the transition of bacteria into inactive growth states and is involved in antibiotic tolerance. Very little is known about how (p)ppGpp functions in infectious S. aureus bacteria on a molecular level, however we do know that the ability to switch on this response is important in long-term S. aureus infections.
"My lab has identified new ways cells can respond to (p)ppGpp and this award will allow us to translate these findings into Zebrafish model infection systems to treat disease."
Dr Corrigan's work is a key component of the University of Sheffield's Florey Institute, where researchers are studying the complex interaction between pathogens and their host, to help combat infectious disease and antibiotic resistance.
A global reputation
Sheffield is a research university with a global reputation for excellence. We're a member of the Russell Group: one of the 24 leading UK universities for research and teaching.