Centre for Poetry and Poetics Presents: A Reading with Maggie Nelson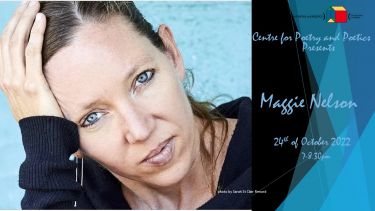 Free. Register for a link to the live stream.
---
Description
Maggie Nelson is the author of several acclaimed books of poetry and prose, most recently the national bestseller On Freedom: Four Songs of Care and Constraint (2021; named a New York Times Notable Book of the Year, and a Best Book of 2021 by the Los Angeles Times, Washington Post, Boston Globe, and NPR). Her other titles include the New York Times bestseller and National Book Critics Circle Award winner The Argonauts (2015); The Art of Cruelty: A Reckoning (2011; named a New York Times Notable Book of the Year), Bluets (2009; named by Bookforum as one of the top 10 best books of the past 20 years); The Red Parts: Autobiography of a Trial (2007); and Women, the New York School, and Other True Abstractions (2007). Her poetry titles include Something Bright, Then Holes (2007) and Jane: A Murder (2005). A book of her essays about art will be published in 2024. She has been the recipient of a Guggenheim Fellowship, an NEA grant, an Innovative Literature Fellowship from Creative Capital, an Arts Writers Fellowship from the Andy Warhol Foundation, and a MacArthur "genius" Fellowship. She currently teaches at the University of Southern California and lives in Los Angeles.
The reading will be followed by a short Q&A by Dr Agnes Lehoczky and Professor Adam Piette.
Please sign up via the Eventbrite page as soon as possible in order to get access to the Zoom link for the session. If you sign up late, for example just hours before the event, Eventbrite might have locked access to the session by then: https://www.eventbrite.co.uk/e/427787843957
After you sign up, Eventbrite will send you the Zoom link and passcode via email on the day of the event.
The event will include a 40 min reading by Maggie followed by a short Q&A.