The Watchers in the Sky - Part five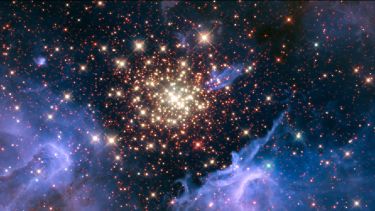 Fred woke up with a glint in both his eyes
as too much time without her had passed by,
and his life, again, was completely back;
though in happiness, Bess had strangely lacked.
Bess, of New-Julie, was really not sure;
she may not have been the same as before.
This is why the pooch tried to warn old Fred,
but he let that thought not enter his head.
Bess did her best with a howl, growl and bark,
to say to Fred what she'd seen in the dark
the previous night that Julie was aglow.
Though Fred can't talk dog, so, how would he know?
As Julie slept, Bess carefully watched
the creature's creation – possibly botched.
The dog's love and prudence anger untold to man;
wanting to protect Fred as best she can.
Happy melodies chimed in old Fred's brain
because of making Julie toast again –
though it may only be a little thing,
it was enough to make him want to sing.
As Fred did butter another dry slice,
he sang: "that's enough – yes – that will suffice"
He served up the toast for his wife, asleep.
Into the room – with the plates – he did creep.
Bess began to bark at Fred's sleeping wife;
she did not wake up, there weren't signs of life.
He called her and tapped her gently to wake
but Fred feared and noted what was at stake.
He had tried to remove her from this slumber
though it seemed he'd have to call the number:
'nine, nine, nine' is what he punched on his phone,
just before he rang, she started to groan.
She sat up as emotionless as ice;
the whole event, for Fred, was less than nice –
she slapped away the toast he had just made,
deep in his heart, he felt something degrade.
She refused all food. She refused all drink.
He asked: "How can I help? Tell me – just think.
I want to help, so please, don't be violent!"
She got up, undressed, remaining silent.
Fred shouted: "I'm eating away from you!"
She cared not for him and went to the loo.
Bess kept watch of this woman, cold and strange.
Passing the loo when her skin started to change,
then standing in the tub with purple skin;
mouth screeching, wide-open, an awful din.
As Bess had detected about Julie,
she was inhuman quite evidently…
---
A poetry series by student DP
04032019R29112020
27 August 2021
A world top-100 university
We're a world top-100 university renowned for the excellence, impact and distinctiveness of our research-led learning and teaching.