I only knew Sheffield as the Steel City before I came here. Now I consider it as my dynamic and friendly overseas hometown.

Yongqing Zhu
Exchange student
School of English
2018
Yongqing is a Chinese student taking modules in English Literature and Linguistics on the exchange programme between the University of Sheffield and Nanjing University. She loves Sheffield's international community and how supportive the University has been to her as an international student.
Why did you choose to study in Sheffield?
I learned about the exchange programme at the University of Sheffield from senior students in my home institution. I was deeply impressed by their colourful and exciting lives in Sheffield. I also knew that the university ranked very high worldwide.
What made the University of Sheffield stand out for you?
The staff here are unimaginably kind. From volunteers who assisted the registration process to the lecturers and seminar tutors who generously share their knowledge, working together with these groups of people is enjoyable. The facilities at the university are highly modernised and are comfortable to live or study in - especially the libraries! Highly recommended! What's more, the University of Sheffield is highly international. I made friends with amazing people from more than ten countries.
What do you particularly enjoy about your course?
I enjoy all three modules I'm taking here. I wasn't that interested in literature previously, but studying at Sheffield has changed my mind!
I gradually learned to appreciate the beauty hidden beneath the biblical/classical texts, different kinds of films and various types of theatre works. If I had to choose my favourite module, then it's LIT181 Introduction to Cinema. This module is particularly interesting.
What do you like about studying in the School of English?
I get to explore the cultural context via studying different materials. It's such a pleasure to discover something beautiful and to gradually form my own opinion of them.
My language skill has also improved a lot. As a non-native speaker, I found a lot of difficulties in the beginning, such as getting used to other students' accents and writing academic essays properly. I'm much better at these things now.
I only knew Sheffield as the Steel City before I came here. Now I consider it as my dynamic and friendly overseas hometown.

Yongqing Zhu

studying English Literature
How did the School of English help support you through the whole process from application to settling in?
Staff from the School of English frequently contacted me via emails and gave me detailed and considerate instructions and suggestions during the application process.
My personal tutors helped me fit in the new environment quickly and assisted me to solve some problems with my registration. My seminar tutors were very inspiring and gave me a lot of helpful tips for my study.
What are your top tips for any international students thinking about studying English at Sheffield?
First, I would focus on improving your reading and listening ability. Studying English here requires a considerable amount of reading and full participation in both lectures and seminars. Second, try to appreciate the beauty and profoundness of English both as a language and a culture.
Last but not least, just enjoy the University of Sheffield! Contact members of staff if you have any questions and enrich your university life by discovering amazing activities offered by the Students' Union or Residence Life!
Do you take part in any University activities as well as your studies?
Yes, I do. I really enjoy sports activities held by Residence Life. The choices range from boxing and HITT to Zumba. I get to do my favourite sports regularly as well as trying out new things. And the best thing about these activities is that they are all free!
What do you plan to do when you finish?
Pursue a masters degree. Maybe in Sheffield!
What do you like most about Sheffield?
The studying and living environment is extraordinary! I live at Stephenson in Endcliffe and it's like living in a park! The road to the main campus is a little bit hilly, but with squirrels and birds' company, I never get bored.
The Western Bank Library is my favourite on the main campus. Sitting in front of the huge window, bathing in the sunshine and relaxing now and then by looking into the Weston Park is truly an unforgettable experience.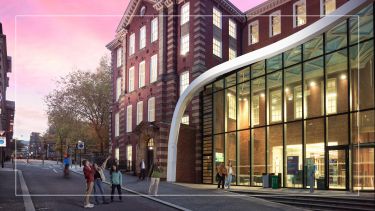 Visit us
Discover what sets Sheffield apart at our undergraduate open days on the Saturday 21 October or Saturday 18 November.