The Dean's Blog: Welcoming our new members of Dean's List, class of 2021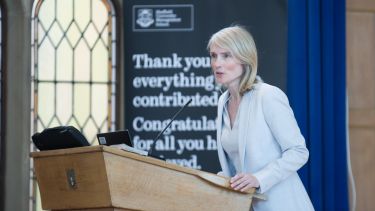 In January, we hosted a virtual Prize Giving and Thank You event to celebrate this year's most exceptional students as they transition to life after university. Among the awards at this year's event was the Dean's List, to which I was honoured to welcome three new members of our postgraduate class of 2021.
As well as achieving outstanding results academically, all our members of the Dean's List have made a significant positive impact on their communities and have gone out of their way to improve their future career prospects during their studies in the Management School. I'd like to shine a light on this year's winners and share with you some of their fantastic achievements:
Mohd Adderly bin Suhaimi graduated with an MSc Marketing Management Practice and won his place on the Dean's List because of his community spirit and dedication to boosting his employability. He represented his student community and volunteered his skills and knowledge to help others, as well as improving his own employability skills set throughout his studies.
Amritha Sekhar received her place for her passionate support of other people's wellbeing, her proactive attitude to gaining employment experience and for being a fantastic representative of our student body during her studies for her MBA.
Last but not least, Luke Smith earned his place for his self-starter approach to developing new professional skills, his contributions to student life and for taking the initiative to connect his studies with real-world work experiences while completing the MSc in Information Systems Management.
I'll look forward to watching Mohd, Amritha and Luke flourish in their careers over the coming months and years and I wish them the very best as they embark upon their professional journeys.
I want to acknowledge the achievements of every single member of the Dean's List, and that's why I am pleased to share with you our Dean's List Winners page. I encourage you to read about what our amazing Dean's List alumni have contributed and accomplished during their time at the Management School.
I wish the very best of luck to all of our 2022 applicants to the Dean's List and look forward to the privilege of welcome more amazing winners this year!
Weekly online events
Attend an online event when it suits you, all year round, as an alternative to an open day.
Every Wednesday, Sheffield Live sessions cover different aspects of University life. You can also meet your department and learn more about studying your subject.