Katherine Calvert
BA
School of Languages and Cultures
Postgraduate tutor for German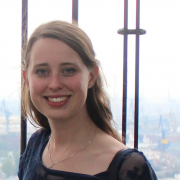 kecalvert1@sheffield.ac.uk
Jessop West
Full contact details
Katherine Calvert
School of Languages and Cultures
Jessop West
1 Upper Hanover Street
Sheffield
S3 7RA

Profile

I am a postgraduate research student in Germanic Studies. My research explores motherhood as a prominent theme in popular and political fiction and nonfiction writing by women from the Weimar Republic. My thesis sheds new light on the ways in which women negotiated the boundaries between their private and public lives during a historical period associated with both increased rights and opportunities for women, and continued widespread support for conservative notions of gender roles.

My research is funded by the White Rose College of Arts and Humanities (AHRC Studentship)
Qualifications

I completed my BA (Hons) in French and German Studies (First Class) at the University of Warwick and my Master of Research degree in German and Comparative Literature (Distinction) at King's College London, where I was funded by the King's Masters Scholarship. I was awarded the University of London Jethro Bithell Prize for my Masters degree. My dissertation examined the portrayal of gendered processes of identity construction in three contemporary, semi-autobiographical novels by multilingual female authors. 

I am a Fellow of the Higher Education Academy.
Research interests

My research interests include Weimar cultural history, twentieth and twenty-first century German-language women's writing, and feminist theory.

My PhD research explores motherhood as a prominent theme in women's writing from the Weimar Republic and sheds new light on the tensions between socially progressive policies which increased rights and opportunities for women during this period, and continued widespread support of conservative notions of gender across the political spectrum. 

My primary texts include non-fiction political and psychoanalytic writing, such as Alice Rühle-Gerstel's Das Frauenproblem der Gegenwart and the women's magazine of the Social Democratic Party, Frauenwelt, as well as women's political and popular fiction, such as Hermynia Zur Mühlen's Lina: Erzählung aus dem Leben eines Dienstmädchens and Irmgard Keun's Gilgi: eine von uns. 

I examine the portrayal of mother-daughter relationships and the reproductive choices of women of the post-World War I generation in these texts, and analyse how the authors engage with contemporary debates around the rights of single mothers and women's access to birth control and abortion. Drawing on the psychoanalytic theory referenced in a number of my primary texts, I offer fresh insights into the ways in which women in Weimar Germany negotiated the boundaries between their public and private lives.
Teaching activities

I currently teach German conversation on the first year undergraduate module MDL1004: German Language for Beginners.

I have previously taught on the undergraduate modules:

GER105/106: German Studies: Texts and Contexts 
GER263: German Culture and Ideas from the Enlightenment to the Present Day 

I am also a PhD Tutor for the Brilliant Club Scholars Programme. My key stage 4 course introduces pupils to cultural portrayals of women from the Weimar era.
Professional activities

Conference Papers: 

'Negotiating Intergenerational Tensions: The Mother-Daughter Relationship in Elfriede Brüning's Kleine Leute', paper presented at 31st Annual Women in German Studies Conference, University College Dublin, 8-9 November 2019. 
'Mothers on the Periphery in Weimar Socialist Fiction', paper presented at the German History in the North Colloquium, University of Salford, 10 May 2019.
'Evaluating Alice Rühle-Gerstel's Contribution to Feminist Discussions of Women's Psychology', paper presented at the Sheffield Gender History Conference, University of Sheffield, 21 February 2019.
'Die Familie als Männersache? The Status of Mothers in Alice Rühle-Gerstel's Das Frauenproblem der Gegenwart', paper presented at Aftermath: German and Austrian Cultural Responses to the End of World War I, King's College London, 13-15 September 2018. 

Professional Memberships:

I am a member of Women in German Studies (Great Britain and Ireland) and the Association for German Studies in Great Britain and Ireland.