Intellectual history and politics
The Intellectual History cluster fosters collaboration between colleagues and postgraduate students working within the broad field of the history of ideas. It encourages the presentation and dissemination of research exploring the changing landscape of intellectual exchanges in the field of European cultures.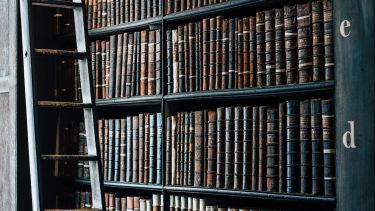 The richness of expertise of the cluster's members means that it can encompass a multiplicity of critical approaches and methods (literary and cultural studies, political studies, sociology, psychology, among others).
As an interdepartmental structure under the aegis of the School of Languages and Cultures, the Intellectual History cluster is particularly keen to encourage comparative approaches to cross-disciplinary subjects.
---
Forthcoming Events
Cluster book launch scheduled for spring 2020 (date to be confirmed).
---
Past Events
Translating Thought / Translating Literature International Colloquium
---
On 23-24 March 2015, Henk de Berg and Karine Zbinden organised an international colloquium on the work of the Bulgarian-born French thinker Tzvetan Todorov. The video below gives an impression of the topics and speakers (there are no full-length papers):
Originally known for his ground-breaking work in literary theory, Tzvetan Todorov is now firmly established as one of the world's foremost cultural critics.
A true son of the Enlightenment, he both defends our fundamental values and questions our deepest certainties. His critical interventions cover an astounding range of topics, from narratology to anti-Semitism, from painting to politics, and from history to current affairs.
Todorov addresses highly complex intellectual and social challenges with lucidity and equanimity, yet without avoiding controversial issues such as Islamic fundamentalism, the war in Iraq, and the International Criminal Court.
The colloquium explored the variety of domains encompassed by Todorov's intellectual activity, focussing on in particular on four topics: critical humanism and the legacy of the Enlightenment; totalitarianism and democracy; the role of the intellectual in the 21st century; literature and the humanities.
---
Areas of research
Work, family and gender, in French and comparative European perspective (Prof. Jan Windebank)
Constructions of gender and sexuality in contemporary French media (Dr. Renate Günther)
Marxism, Early Soviet critiques of orientalism, Gramsci and cultural theory (Prof. Craig Brandist). Languages of ideological subjection (Althusser, Balibar), Imperialism and neo-colonialist discourse (Dr. Sophie Watt)
Czech underground and dissident literature (Jan Matonoha, corresponding member)
European (esp. German and French) intellectual history; social thought; literary and cultural theory; 18th-20th-century German literature (Prof Henk de Berg)
Early Soviet cultural theories (specifically Proletkult, Left Front and sociology of literature), Stalinist aesthetics (Socialist realism in literature, film and theatre), Intellectual history of Stalinism (Professor Evgeny Dobrenko)
Confrontation with the National Socialist past in political and public discourse in post-war and especially post-unification Germany (Dr. Caroline Pearce)
Connections between the inter-war Eurasianist movement and Russian literature (Adam Fergus)
Todorov and Bakhtin, Cross-cultural transmission, Translation, European Intellectual History (Dr. Karine Zbinden)
History of pedagogical ideas in the 18th century, history of educational theories (Dr. Christine Baycroft)
Intellectual historiography of the French revolution, development of earth sciences in early modern Europe (Dr. David McCallam)
Latin American politics and history (Dr. Peter Watt)
Representations of authority in 19th century French literature; utopian socialisms and the French cultural imagination (Dr. Maxime Goergen)
Intellectual history events
The cluster and its members are involved in the organization and animation of various activities across departments, such as:
The Bakhtin Centre
SLC school research seminars
French Theory Workshops