The breadth of modules the department had to offer made my course really enjoyable. I felt that I could really cater my degree to my interests.

Emily Bower
Graduate
BA Sociology with Criminology
2022
Emily decided to study Sociology with Criminology after being impressed by how passionate the staff were at open days. During her time at Sheffield, Emily fell in love with what the city had to offer, and felt that the opportunities offered by the University allowed her to make Sheffield her own.
Why did you choose to study at The University of Sheffield?
I was always so impressed by the Department of Sociological Studies at Open Days. I found staff incredibly engaging and passionate about the courses on offer and how they spoke about Sheffield with such admiration. 
The Student's Union was also fantastic; you can clearly see why they have won so many awards over the years! I loved how many outlets and opportunities there were available for all students alongside the 350 clubs and societies. There really is something for everyone!
What did you enjoy most about your course, and why?
The breadth of modules the department had to offer made my course really enjoyable. I felt that I could really cater my degree to my research interests and bring in personal experience that I felt was valued and appreciated. I really enjoyed seminars and workshops and how everyone was engaged with the content of modules, this led to great conversations and debates during classes which really helped develop my learning and confidence. The assessments were also very varied which I appreciated; you won't be restricted to writing long essays every time! One personal highlight was making a zine for the module 'Queer Theory and the Media' and a vlog analysing Prince Andrew's power and privilege in the Criminal Justice System.  
The staff are also so passionate about what they do. It was a real pleasure to be taught by world-leading researchers and learn about their areas of expertise. I have to give a shout out to Dr Julie Walsh who was a huge help when I was writing my dissertation. She was able to use her knowledge of 'Everyday Bordering in UK' to help inform my research and analysis of international students who resided in Sheffield during COVID-19 and overall, made the experience of writing an extended essay really enjoyable. 
Would you recommend any modules in particular?
I have always had a particular interest in sociology and criminology. Throughout my degree I had the opportunity to choose many modules that reflected this. What I particularly enjoyed was how the course intertwined classical sociological theory and more contemporary areas of research. One example of this is in the module 'Sociology of Crime and Deviance', which allowed me to link the current issue of policing drill music in London to the creation of a 'Moral Panic'. Even though the theory was developed over 50 years ago it is still very relevant today!  
Another one of my favourite modules was 'Organised Crime and Illicit Markets' which explored the growth and policing of underground enterprises. This is something that everyone has seen in the media at some point and was really interesting to explore how embedded and widespread it is in our everyday lives (even if we do not realise!)
What is Sheffield like to live in? What is your favourite thing to do here?
It's difficult to pinpoint one specific thing about Sheffield; everything about it is so great. I love how wherever you are, there is always a green space near. Even right by the Uni, there are two amazing parks… the perfect spot for a lunch! The peaks are also right on the doorstep which make for the most picturesque walks and a perfect break from studies. Even if you do not have a car, amazing places like Bamford Edge and Bakewell are accessible by bus or train. 
There are so many amazing places for food and drink which I have definitely made the most of since living here! Kelham island, the old industrial part of Sheffield, is a particular highlight for me with so many amazing restaurants to make the most of. Every first weekend of the month, the area also hosts the legendary 'Peddler Night Market' which gathers food trucks, local breweries and live music all under one roof!
Sheffield also has many live music venues, covering every genre under the sun. There is always something going on and it is so easy to find fantastic music for a great price! Not forgetting the 'Poptarts' club night every Saturday at the Student's Union! 
Were you involved in any clubs or societies? If so, how did they add to your overall university experience and what skills have you gained?
In my first year, I was involved in the 'Literacy Champions Scheme' which let university students go into local primary schools in Sheffield and help coach children with their reading and pronunciation. This was a really enjoyable experience and allowed me to get a sense of the wider community in Sheffield. It also felt as if you were doing something really helpful to local schools. There are many opportunities like this in the SU and I would definitely recommend getting involved with volunteering at least once as a uni student!

Can you tell me more about SocSoc and the types of activities it organises?
Throughout my three years, I was also involved in the Sociology Society or 'SocSoc'. In their own words it is 'run by students, for students' and really is the perfect way to meet like-minded people on your course outside of the lecture theatre. Throughout my degree, I did so many amazing things with the Society such as playing in a netball campus league, raising money for Sheffield charities and having countless themed nights-out! In my third year as 'Social Secretary' for the society, I also helped run and organise a weekend trip to Amsterdam which was an amazing experience. If you're new to the department I would really recommend signing up. I met some of my best mates through the Society and loved everything the society had to offer. You can also expect a black-tie ball at the end of year which you can't miss!
What has your career path been since graduation? How has your degree helped you?
Coming to university, I didn't have a clear-cut idea of my future or any career plans. Like many students during A-Levels, I chose to carry on studying sociology as it was my favourite subject at the time. Throughout the course of my degree, however, I was able to gather knowledge and experience suitable for the job market. Although getting a job seems like a scary thing, your sociology degree really helps you get all the necessary skills. The research and analytical skills developed throughout my degree are so valuable and something employers really like to see. You also have a lot of opportunity for group work and team building which look great on any CV. I also really value the organisational and time management skills I learnt throughout my three years. I think the dissertation you write at the end of it is testament to this and shows independence and creativity! 
Since graduating, I was able to use these skills to get a job in the Sociology Department. Working in the Learning and Teaching Team, I help manage and facilitate all programmes in the department and help support students in any way I can. I would like to continue having supporting roles in my career and will talk about my degree in interviews for a long time!
Do you have any advice for students thinking about doing Sociology at Sheffield?
My advice for new students would be to get involved with student life as much as possible! Join as many societies and 'Give it a Go' events as you can. It's unlikely you'll have the same opportunities on offer again so really make the most of it. Also, explore the city and really make it your own. Do make sure you balance this with self care and relaxation days on the side. University can also be intimidating and a time of big change so, whilst being sociable is important, take care of yourself and find support whenever you need it. The University has vast networks of support available, even for the smallest of issues, so don't hesitate to get in touch.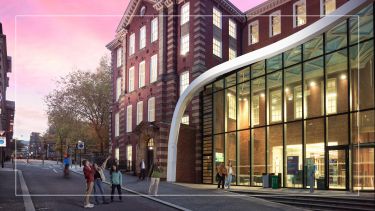 Visit us
Discover what sets Sheffield apart at our undergraduate open days on the Saturday 21 October or Saturday 18 November.