Being at Sheffield has allowed me to develop my interests into passions

Emily Firth
Graduate
BA Sociology with Criminology
2021
Emily transferred into her second year of study at Sheffield, coming from another university. Here, she tells us how she instantly felt at home with The University of Sheffield and how she's discovered and developed new passions throughout her studies.
Why did you choose to study BA Sociology with Criminology at The University of Sheffield?
The initial stand out point for me was that the Department of Sociological Studies at Sheffield is so incredibly welcoming to absolutely everyone. I entered at level two, which made my experience a little different but the support I received was amazing. I instantly felt so at home. I knew studying here was the right choice for me the second I stepped into the Elmfield building, where the Department of Sociological Studies is based. It is the most endearing building, with all your lecturers based in one place, providing a great sense of belonging.
What sets Sheffield apart from other universities, however, is the structure of the curriculum. The first year allows for common teaching, which is brilliant to refresh A-Level sociology or for a quick but thorough catch-up for those that are new, to allow everyone to be at the same level in year two. The second year allows you to develop and explore your own passions and interests by taking two optional modules, which helps link and expand your understanding of criminology and sociology as subjects that are not independent but rather more linked than you would initially think. All preparing you for level three, where you are supported and encouraged to explore your own individual sociological experiences and interests through your dissertation, with the help of your perfectly matched academic advisor. 
What are your thoughts on the course so far? Which modules have you enjoyed the most, and why?
Being at Sheffield has allowed me to develop my interests into passions. I have particularly found this to be because of the huge variations of modules on offer. The course is so varied. You will one hundred percent be able to find your passion through the curriculum on offer. Before I came to Sheffield, I knew that my interest was within feminism, however, this quickly became much more than an interest when I took the Men, Feminism and Gender Relations module. I explored areas of feminism I had never even begun to think of and in new ways, too. The Department is so passionate about transferable skills that the variety of assessment types is fantastic and will definitely suit everyone, so don't be worried if exams aren't your thing! Within the Men, Feminism and Gender Relations module the mode of assessment was all based around a vlog, which allowed me to develop new personal and technological skills that I never would've accessed before! 
Have you found it easy to settle into student life in Sheffield? 
Student life is sometimes complicated, but that's because you have quite a lot to manage, so being organised is your best friend! You will find your work/life balance, however. There is so much wonderful nightlife at Sheffield, my particular favourite being Club Tropicana at Leadmill (the most fun you will ever have on a night out, I promise!). Besides the nightlife, the Students' Union has hundreds of societies on offer, which can help blend work and pleasure! The Sociology Society (SocSoc) is fantastic as they put on so many social events thought the year (including the summer ball!), but they also provide academic support. I found societies are the key to getting involved and making friends during your first year, along with the motto 'work hard, play hard!'
What's your favourite thing about Sheffield as a city?
My favourite thing about Sheffield is definitely the diversity the city has on offer, from music, to food, Sheffield has just about everything. With the Peak District just on your doorstep and wonderful green spaces in the city centre itself, there is something for absolutely everyone. There are so many great bars, independent shops and music venues all around the city but one place that brings this all together is Peddler Market, definitely make sure you go!
Do you have any reflections to share on your study since the Coronavirus outbreak and the temporary move to online teaching?
The coronavirus outbreak has changed almost every aspect of our everyday lives, this including our academic life, however, the Department of Sociological Studies has supported our online teaching every step of the way. Our lecturers are always quick to reply to any emails and will always make time for a Google Chat If you are struggling with any aspect of your studies. 
What are your plans following graduation? Where do you see yourself in the future?
After graduation, I hope to go on to do a master's degree, definitely in a topic that is gender related. I would really love to be able to do more research in areas of feminism that I am passionate about to help make a change to current legal frameworks. In the future, post-university life, I see myself in some sort of social care role. I would love to carry on researching alongside my job to help make a change on both an individual and mass scale. I am currently about to undertake my dissertation, centring this around the legal barriers to sex work. I would love to be able to carry this kind of work and research on for years to come.
What piece of advice would you offer new students to the Department of Sociological Studies at Sheffield?
My key bit of advice would be to get involved! By throwing yourself into every opportunity you get, you will develop academically and personally, which is exactly what university is all about. Not only will getting involved with the Department and societies allow you to make new friends so easily, but it will also allow you to build a relationship with your lecturers too, which will be so helpful when it comes to being able to access the right people for the right help if you ever have any problems with your studies. Another important piece of advice I would also give would be to enjoy yourself! These three years will fly by so incredibly quickly so embrace every day, and never be afraid to say yes to every opportunity that comes your way.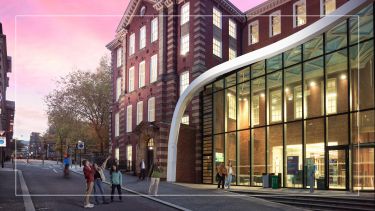 Visit us
Discover what sets Sheffield apart at our undergraduate open days on the Saturday 21 October or Saturday 18 November.