SDG16: Peace, Justice & Strong Institutions
Run for students, by students the Students' Union is the platform in which students get their voices heard. Through the foundations to promote freedom of speech and inclusivity, we continue to support our students throughout their education to work together to uphold peace, justice and fairness.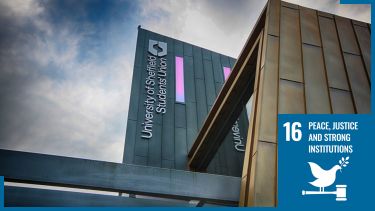 On
Key facts for how we are achieving SDG 16
Ranked No.1 Students' Union for the past five years
Ranked third in the University of the Year category and second in the Student Life category 
Student and trade union representatives on University committees
2,533 students are committee members across all societies 
Students Union
Run for students, by students our Students Union (SU) is dedicated to representing, supporting and enhancing the lives of University of Sheffield students by promising top quality education, life-changing opportunities that liberate them and support them for the best possible future. Our £20 million Students' Union is home to over 400 societies and sports clubs, 12 committee officers and the hub for volunteering and employment. Every year, the SU facilitates fundraising and volunteering activities including Sheffield RAG; supporting over 60 good causes and raising £60,000 in charitable funds this academic year alone.
---
Creating a safer environment for journalists
Journalists face serious human rights abuse whilst trying to keep the public informed about current affairs. Researchers at the University of Sheffield are developing a framework to improve data collection on the full range of violations against journalists and track trends to prevent future attacks. The framework will facilitate a data shift from only recording physical violence and killings to monitoring the full range of abuse and violations. 
Read more about the research.
Restorative justice
Work by Professor Joanna Shapland on restorative justice at the University led to her becoming Chair of the Restorative Justice Forum in Scotland, the major body for developing restorative justice policy in Scotland. Under her guidance, the forum is helping the Scottish government's commitment to have restorative justice services widely available across Scotland by 2023. Restorative justice schemes aim to help those who have been harmed by offenders to increase their faith in the justice system, as well as reducing the reconviction rate by offenders. 
Combatting Disinformation
Researchers at the University of Sheffield have found useful techniques to tackle disinformation and fake news on social media. Natural language processing methods were used to extract information from large volumes of social media streams, identifying fake news, abuse and misinformation. The research has also fuelled extensive media coverage on and offline, both nationally and internationally, on the misuse of social media, which has raised public awareness of its risks.
---
Power of music
Throughout the 1970s to the 1990s, war turmoil and repeated invasions in Afghanistan led to reduced music creation across the region. In the late 1990s all forms of musical expression, public or private, were brought to an abrupt halt when the Taliban seized Kabul - they proceeded to ban all music, destroying instruments and punishing those found with musical paraphernalia, with the belief that it was sinful and immoral.
After the fall of the Taliban in 2001, Afghanistan lifted this ban, reintroducing music to its people. Dr Cayenna Ponchione-Bailey, a Leverhulme Early Career Research Fellow in the Department of Music at Sheffield, has focused her research on the social and political significance of the Orchestras of Afghanistan. As part of her research, she is collaborating with musical colleagues now in exile to create opportunities for musicians and composers of Afghanistan to have their music and voices heard.
Read more about this research.
Our sustainability strategy
We have set the principles and direction for our sustainability strategy