Goal 5 focuses on reducing levels of violence against women and increasing the participation of women in education and positions of power. Through our teaching, global research and on-campus actions, we're working to inspire, support and empower all genders locally and globally.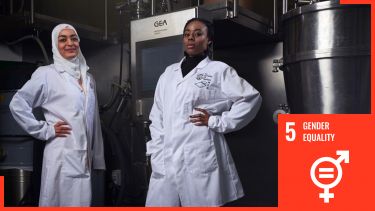 Key facts for how we are achieving SDG5
Our Gender Pay Gap in 2021 is 8.4% down from 11.1% in 2017. We are targeting a further 5 percentage point reduction in our pay gap by 2025
7,550 female students starting a university degree in 2021 at Sheffield, equating to 54% of the intake
680 female students starting a degree at university who are first generation in their family to go to university in 2021
Leadership: Our Senate and Council Committees have an overall average of 44% female membership. Six out of 13 colleagues on our Executive Board are female, including our Deputy Vice-Chancellor
We are one of only 18 universities to hold a Silver institutional Athena SWAN award and one of only four institutions nationally to retain their Silver award upon renewal
The Women@TUOS Staff Network is an aspirational and motivational space and support network for female staff from all backgrounds and at all stages of their careers 
We support women returning from maternity leave through our Women Academic Returners' Programme (WARP)
Recognition within the University 
Wall of Women

Athena SWAN

Peppy Health

Gender equality in research
---
Gender pay gap

Support for Carers

Support for parents

Governance
---
This SDG encompasses the equality of all genders such as male, females, non-binary, transgender, gender neutral, agender, pangender, genderqueer, two-spirit, and third gender.
The Department of Philosophy published their Gender Identity Policy outlining zero tolerance of discrimination or bullying towards any gender.
---
Tackling gender inequality in Latin America 
Research at the University of Sheffield is at the forefront of promoting gender equality in Latin American schools by celebrating women who helped shape the region. The Great Latin American Women project is one of the initiatives that the University of Sheffield is undertaking with project partner, Billiken, a children's magazine in Argentina. As Billikien approached its centenary, it was decided to create a book to commemorate one hundred Great Latin American Women. The book presents a diverse range of women who have shaped Latin American history and society through contributions to fields such as human rights, conservation, the Arts, technology and sport. 
Read more about tackling gender inequality in Latin America
Empowering women through radio
Women in Niger are victims of widespread gender inequality, but radio can provide a platform for female empowerment. In Niger, radio programmes are the primary source of information for both men and women. However, it's common for husbands not to allow their wives to attend these listening sessions, so the women miss out. In collaboration with Foundation Hirondelle, research by the University of Sheffield is already encouraging women to establish female-only listening groups, meaning they have access to vital information. Armed with new information about their legal rights, family planning and healthcare these women are equipped to resist marginalisation. They are being given their voice back.
Our sustainability strategy
We have set the principles and direction for our sustainability strategy