The Diamond, located near the Mappin Building, is home to some of the best equipment, laboratories and study space in the University.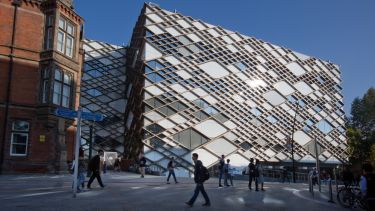 Since its opening in September 2015, The Diamond has created a fantastic place for modern interdisciplinary teaching, generating interest from all over the world. It won the 'Design Through Innovation' award in the 2016 Yorkshire and Humber Region Royal Institute of Chartered Surveyors (RICS) awards and was also shortlisted for the Yorkshire awards from the Royal Institute of British Architects (RIBA).
Designed as a "smart" building, it allows detailed control of energy management, with a central naturally ventilated atrium and rainwater harvesting. The aluminium diamond-shaped facade exterior, with galvanised steel sheets and glass, is all made from recycled materials.
Inside, its six storeys boast specialist teaching facilities including a range of lecture theatres, seminar rooms, open-plan learning spaces, library and IT services, and space for informal study including a cafe. The computing area offers 1,000 study spaces, available 24/7 for all students and staff across the University.
There are also digital and print facilities, media editing booths, a recording studio and computer teaching laboratories. The building's 19 laboratories offer more practical learning opportunities with a chemical engineering pilot plant, a clean room, an aerospace simulation lab and a virtual reality suite.
You'll find everything you need for your studies in the Diamond, whether it's a computer to finish off some course work or a textbook for revision, there are plenty of resources at your fingertips.
Explore the University
Discover why Sheffield is the right choice for you at one of our open days or events.