Departmental Language Programme - Academic Literacy Resources
ELTC Staff have developed these interactive online resources to enable you to improve your academic literacy.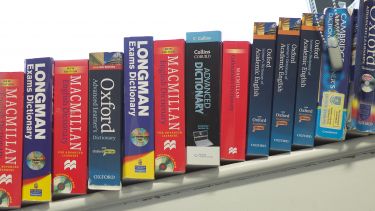 Academic literacy consists of the skills and language that you need in order to succeed within your academic department. Meeting the expectations of your department is an essential component of academic writing at University. You can use the resources we have created on this page to learn how to write correctly in the style required by your department, as well as how to avoid plagiarism.
Your Department Language Programme (DLP) tutor may refer you to these resources as part of your DLP course, or you can use any of the resources for self-study at your own leisure.
Click on the headings below to view the resources available in each area and a further definition of what it entails:
Cohesion

Cohesion is the way you use language to connect your ideas and show the progression of your argument.

Coherence

Coherence is when the ideas in your writing are logically connected and flow naturally from one to another.

Criticality

Criticality is the ability to look at a piece of writing and identify different positions and biases within it.

Academic Reading

Being able to read quickly and effectively is a key skill when studying at university.

Genre Analysis

Genre Analysis is the ability to identify a genre's defining organization, language, intended audience and purpose.

Reflective Writing

Reflective writing is a type of writing that requires you to look back at past experiences and analyse them with the purpose of performing better in the future.

Business Reports

Business reports are a type of case study in which you analyse a particular business scenario/situation, apply business theories and evaluate it in order to suggest improvements.

Paraphrasing

Paraphrasing is a key skill to learn to be able to effectively integrate sources into your writing.

Summarising

Summarising is the ability to take longer pieces of text and express them in a shorter form in your own words. It is a key skill for referring to sources in your writing.

Synthesising

Synthesising is the ability to integrate different sources effectively into your writing.

Lab Reports

The lab report is an example from the genre family of methodology recounts. Its aim is to describe the methods, procedures and experimental findings of research conducted by the student.

Academic Vocabulary

Academic vocabulary is really important to develop if you want to be able to write more accurately.

Building an Argument

Building an argument is the ability to analyse, research, select, organise and develop ideas in order to present your readers with a clear point of view supported by evidence.

Academic Presentations

Academic presentations can be individual or group, assessed or informal, as part of a seminar or tutorial, but they all require effective communication skills, including clear use of signposting and functional language.

Communicating with Tutors

Communicating with your tutors effectively can be tricky, especially if English is not your first language. Whether it is face-to-face or by email, it is important that you communicate with your tutors clearly and respectfully.
A world top-100 university
We're a world top-100 university renowned for the excellence, impact and distinctiveness of our research-led learning and teaching.