Across our five integral research pillars, we have a range of outstanding specialist facilities that enable us to connect with partners in industry and other world-leading institutes.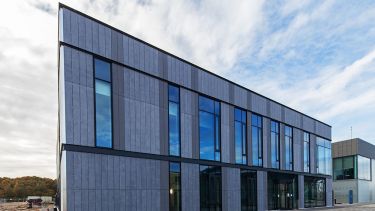 Off
This new world-class testing facility is instrumental in the UK's transition to a low-carbon economy and is helping businesses stay at the forefront of this rapidly growing market.
Part-funded by the European Regional Development Fund and the Department for Business, Energy and Industrial Strategy, the Translational Energy Research Centre is dramatically broadening the scope of the pilot-scale testing facilities currently available in the UK. It includes state-of-the-art equipment for conventional energy, carbon capture, utilisation and storage, biomass, hydrogen, renewable energy, energy storage and smart grids. 
Explore our research on low-carbon power
---
The Sustainable Aviation Fuels Innovation Centre (SAF-IC) is providing world-leading, state-of-the-art facilities to test, certify and deploy new sustainable aviation fuels.
Jointly funded by the European Regional Development Fund and the University of Sheffield, the new centre is located at the University of Sheffield Innovation District,  and acts as a 'clearing house' with facilities to test, validate and certify new fuels. SAF-IC is one of the first facilities in Europe to be able to capture CO₂, produce green hydrogen, convert them into sustainable aviation fuels and analyse their performance all in one single location. SAF-IC is a development hub for the research and scaling-up of sustainable aviation fuels, offering laboratory and testing space as well as coordination and networking facilities. The Centre works in combination with the neighbouring Translational Energy Research Centre. 
Explore our research on hydrogen 
---
The Centre for Research into Electrical Energy Storage and Applications (CREESA) hosts the UK's only research-led, large scale, energy storage test facility. This dedicated national research facility has been designed to offer enhanced frequency response to peaks in energy demand and is available to be used by other academic and industrial projects for their research and to test new technologies. More recently, this facility has been set up as a test bed for Industry 4.0, and in collaboration with industrial partners, is used for battery digitisation research with reference to the Internet of Things (IoT) and cloud computing.  On the university campus, there is over 500sqm of laboratory space dedicated to energy storage research hosting state-of-the-art equipment to support researchers and industry in tackling the latest challenges.
Explore our research on electrical energy storage
---
The Nuclear Advanced Manufacturing Research Centre (NAMRC) is a collaboration of academic and industrial partners from across the nuclear supply chain, with the mission of helping UK manufacturers win work at home and worldwide. NAMRC is led by its industrial members, but companies don't have to be members to take advantage of its capabilities and expertise. NAMRC's manufacturing innovation capabilities and supply chain development services are open to all UK manufacturers, from specialist SMEs to top-tier OEMs.
Explore our research on nuclear power
---
MIDAS is a national user facility, established to provide academic, public and private sector organisations with access to state of the art equipment to support world leading research in the management and disposal of radioactive wastes from the nuclear fuel cycle. Access to the MIDAS Facility is open to academic, public and private sector organisations and is facilitated by an experienced team of researchers who can provide advice and guidance on utilising facility equipment to meet your research needs.
Explore our research on nuclear power
---
Siemens established its UK wind turbine generator R&D competence centre at the University of Sheffield in 2009. Our partnership with Siemens Gamesa focuses on developing the most reliable, innovative and efficient wind turbine generators. The constant dialogue between the University's experts and Siemens Gamesa engineers translates into real world solutions with benefits to both the wind industry and the environment.
Explore our research on wind power
---
The Advanced Resource Efficiency Centre (AREC) is a facility to promote the collaboration between industry and academia, and provide a platform for access to policy makers in order to meet the challenge of promoting resource efficiency and sustainability across supply chains. AREC supports the development of resource sustainable supply chains by proposing new ways of reducing risk for partners in overcoming the challenges of resource availability.
Explore our research: energy sustainability, resource efficiency and circular economy
---
Contact
Get in touch to find out more: energyinstitute@sheffield.ac.uk
Partner with us
We work with businesses to develop practical low carbon solutions for the energy industry.