Eliminating supply chain inefficiencies in collaboration with Microsoft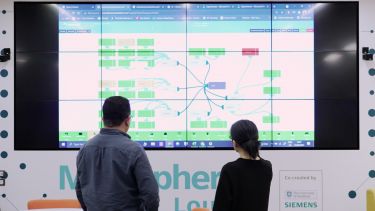 The University's Advanced Resource Efficiency Centre (AREC), led by Professor Lenny Koh, has been working in collaboration with Microsoft to pioneer and develop a tools suite for analysing supply chains. The cloud-based digital tools consist of life cycle assessment software and supply chain mapping which can be customised to make supply chains more efficient. 
Supply Chain Environmental Analysis Tool (SCEnAT) 4.0 is an advanced software tool that uses large scale databases – including from the World Bank and NASA Satellite maps – and numerical, graphic and textual data with embedded autonomous learning to help businesses understand the environmental, economic and social impacts of energy. 
Ensuring sustainable development
This tool is powered by Microsoft Artificial Intelligence, Machine Learning and Deep Learning, and is capable of making sustainability predictions. SCEnAT 4.0 can determine the relationships between, and impact upon, climate change, the political economy, innovation, life expectancy, population growth and energy use, and on sustainable development and resources. 
The partnership between the University and Microsoft has progressed the tools suite from SCEnAT to SCEnAT+ and SCEnATi, through the addition of big data analytics and benchmarking capabilities, along with Power BI integration, a Microsoft business analytics service.
Industry-leading collaboration
The SCEnAT suites have been used by industry leaders such as Jaguar Land Rover and Sheffield Forgemasters, as well as by policy makers to support decision making for resource sustainability. These uses have improved efficiencies and reduced carbon costs and emissions, contributing towards net zero and carbon neutrality goals.
Professor Lenny Koh, Director of the AREC and Head of Communication, Partnership and Internationalisation at the Energy Institute, says: "I'm thrilled to see my research being used in a way that's good for the planet. The Energy Institute is developing new links with industry and that can change the way we produce and use energy across the globe.
"We are very proud of the long-standing relationship between the University of Sheffield AREC and Microsoft." 
Anthony Bitar, Cloud Solution Architect, Microsoft UK, said: "Policy makers and industry leaders can exploit the prediction experience from SCEnAT 4.0 to have a deeper understanding of the implications of policy and investment decisions.
"We are excited by how the combination of Microsoft's Azure cloud and AI services are being used in the SCEnAT 4.0 platform to de-risk and visualise the relationship of economic, environmental and social impact from the way we produce and consume resources."
Partner with us
We work with businesses to develop practical low carbon solutions for the energy industry.