Producing high quality glass through low-carbon fuels with Glass Futures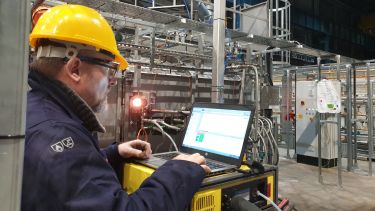 Off
Glass products feature in every part of our lives, from the windows and doors in our houses, to the glass fibres speeding up our broadband. But the process of making glass, like many materials manufacturing processes, currently results in large amounts of carbon emissions. 
In order to remove costly and damaging carbon from the glass manufacturing process, our experts are applying cutting-edge methods to provide industry-based solutions. 
We need to decarbonise glass production
Glass currently uses greenhouse gas-emitting fuels in the creation of its materials, where instead it could use alternative sustainable fuels, such as green hydrogen or biofuel, in its key processes. However, changing fuels could affect the quality of the product. The challenge is to discover fuels that work effectively and efficiently, whilst also encouraging fuel flexibility to reduce costs, and still produce the high-quality glass industry requires. 
Solving the issue
In order to drive forward the cleaner, carbon-free glass manufacturing process, sustainable fuels researchers from the University's Translational Energy Research Centre have joined a £7.1 million project, funded by the Department for Business, Energy & Industrial Strategy (BEIS). The project involves working with not-for-profit research and technology organisation Glass Futures, which aims to find and implement commercially viable, low- or zero-carbon alternative fuels for glassmaking, including using hydrogen. 
Combining the world-class expertise of researchers who specialise in industrial decarbonisation - across the wide range of emerging options for businesses, such as fuel switching, carbon capture and utilisation and renewables - with the next-generation pilot-scale testing rigs available at the University of Sheffield means we offer industry the combination of the skills, implementation, equipment and business acumen required to accelerate towards the use of clean energy in industry. 
Taking action
It is vital that new fuel technologies are proven both technically and economically in order to reach the legal deadline of decarbonising by 2050. 
Researchers from the Energy Institute are providing in-depth investigations of sustainable alternative fuel sources and innovative methodologies to decarbonise the glass manufacturing process in line with net zero targets.
The team are both designing and carrying out experiments to determine the best green fuel for the glass manufacturing industry. For example, Dr Janos Szuhanski is working on flame characterisation experiments, and supporting the Glass Futures team with those experiments from beginning to end of the test campaign. 
Dr Szuhanski says: "Supporting industrial partners in their decarbonisation and sustainability goals is vital for achieving net-zero targets and for creating a greener world. By bringing academic understanding to the process of switching to alternative fuels, through experiments, analysis and modelling, we can provide industrial partners with the vital information they need to remove carbon and fossil fuels from glassmaking."
What's next? 
Still in its early phases, the Glass Futures project will run for several years, and will also result in a new experimental glassmaking pilot plant, the Global Centre of Excellence in St Helens. The outcome of these experiments, and the significant results they will deliver, will fundamentally change the way we make all of our glass products, making it the sustainable and clean process we need to save the planet, all whilst still delivering on quality. 
Partner with us
We work with businesses to develop practical low carbon solutions for the energy industry.