Enabling supply chain resilience and security with Rolls-Royce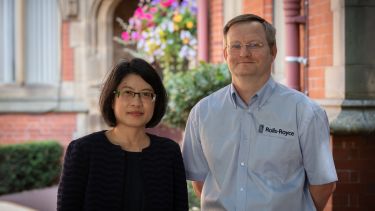 Project FPSCRS (Future Proof Supply Chain Resilience and Security), funded and supported by the Economic and Social Research Council (ESRC) and Rolls-Royce, will establish a resilience index scorecard system, hosted via a secure online tool, to provide a quantitative scale of resilience measurement and capture qualitative insights.
The tool, co-developed by Rolls-Royce and researchers from the Management School at the University's Faculty of Social Science, enables high value manufacturing industries such as civil aerospace, automotive, and rail to benchmark their supply chain resilience, and manage and respond to risk and security issues.
Created with input from industry leaders, the tool will allow the government and advanced manufacturing industry to measure and reduce uncertainty and risk, minimise vulnerability and threat, and improve supply chain security and resilience.
A policy brief will be generated in consultation with key partners and stakeholders in the supply chain and within government departments for green economy recovery post-Covid-19, focusing on supply chain resilience and security.
The brief aims to bring transformational industry and policy impact economically, environmentally and socially for UK businesses and global supply chains.
Professor Lenny Koh, Director of AREC and Co-Head of Energy Institute, and academic lead of FPSCRS, said:  "Through this co-creation with Rolls-Royce, Project FPSCRS advances the understanding of supply chain resilience and security in the advanced manufacturing industry. Novel measures and models will be developed, along with the tool and policy brief, using multiple methodologies. This research will help solve the pressing challenges of disruptions via improved risk mitigation and business continuity."
Peter Ralph, Head of Security and Resilience, Rolls-Royce, and the industry lead of FPSCRS, said: "This research forms our underpinning basis and decision making in shaping our resilience and security strategy and framework. The involvement of all 4 businesses within Rolls-Royce validates the agility and replicability towards a resilience standard which has national and global relevance. The impact of this future-proofing of our supply chain resilience and security is global and significant at industry and government levels."
Paul O'Rourke, Group Security Director, Rolls-Royce, commented: "Rolls-Royce's capability to safeguard customers' delivery, and lead and future proof our organisation and supply chain against disruptions ranging from security of critical materials supply to the flexibility of our manufacturing and test facilities, is a top priority from management.

"The dynamic geopolitical, economic and environmental externalities in the industry such as the Russia-Ukraine war, Covid-19 and climate change affect resource resiliency. This research plays a key role in changing mindset and informing policy on putting resilience and security-critical factors in decision making in industry and government."
Partner with us
We work with businesses to develop practical low carbon solutions for the energy industry.
Flagship institutes
The University's four flagship institutes bring together our key strengths to tackle global issues, turning interdisciplinary and translational research into real-world solutions.