PhD opportunities at the Energy Institute
The Energy Institute at the University of Sheffield has a number of EPSRC-funded studentships available, in line with the Institute's remit to carry out interdisciplinary research across the area of energy.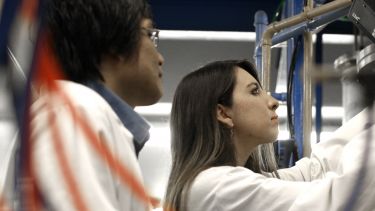 Funded EPSRC DTP PhD Studentship: Net-zero propulsion and supply-chains management of sustainable aviation fuels towards delivering a green aviation
About the Project
Alternative clean and sustainable aviation fuels (SAF) will play an essential role in delivering a net-zero aviation. This cross-disciplinary PhD project aims to provide new understanding of the combustion performance and the fuels' impact on net-zero propulsion. Additionally, the long-term feedstocks availability, decarbonising impact and costs must be assessed, requiring detailed understanding on supply-chains and technical viability. This PhD project will utilise optical diagnostics or CFD modelling tools to study the combustion behaviours of SAF. Life-cycle and supply-chains study will be conducted on the selected SAF to project economic-environmental impacts.
This project is well-supported by the collaboration between the Mechanical Engineering Department and the Management School. By integrating Life-cycle assessment at the design stage for SAF in collaboration with Advanced Resource Efficiency Centre at the Energy Institute at the University of Sheffield, this will support the development of the selection of sustainable materials, chemicals, processes, and supply chains for SAF.
The successful candidate will be joining the team of multidisciplinary researchers of the Energy Institute at The University of Sheffield to develop research and innovation for decarbonisation. The potential objectives include theoretical combustion study, system design, environmental-economic evaluations, and supply chains study.
Location: The University of Sheffield is part of the prestigious Russell Group universities. 
The Department of Mechanical Engineering ranks among the top in the UK, and has among the highest levels of research income. 
Energy Institute at The University of Sheffield, UK is where the brightest minds come together to build a sustainable, secured and greener world. It is the largest Energy Institute in Europe which provides a platform for breakthrough research and innovation collaboration and partnership across industry sectors and government policies, addressing global energy resources and climate change challenges. Its transformational research and innovation bring the biggest social, environmental and economic impact for people and planet.
Requirements:
Education: A good degree or Masters in Energy system, Supply chain analysis and management, Thermal science, Applied Mathematics, Physics, Mechanical, Chemical, or other engineering.
Desirable skills: Life-cycle assessment modelling, Good analytical and programming skills
Other requirements: Self-motivated and a passion for the subject, Excellent communication skills
To apply, please visit https://www.sheffield.ac.uk/postgraduate/phd/apply/applying including your CV and two academic references and indicate on your form that you are replying to this advert. For more details contact Ruoyang Yuan at ruoyang.yuan@sheffield.ac.uk
A world-class university – a unique student experience
Sheffield is a research university with a global reputation for excellence. We're a member of the Russell Group: one of the 24 leading UK universities for research and teaching.