Research project with Rolls Royce will increase the understanding of fuel injection for a more sustainable future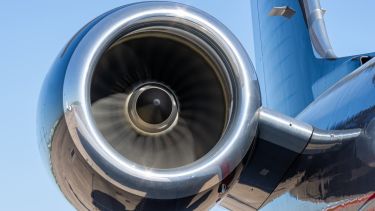 Researchers from the University of Sheffield are working with Rolls Royce and other partners to improve engine design, reduce carbon emissions and avoid expensive maintenance by creating models that can better predict fuel behaviour. The research looks at an engine's fuel system and how it develops the propensity to deposit on heated surfaces prior to combustion in order to future-proof engines and make them more sustainable.
Through chemical, CFD and system modelling, the Fuel System work packages under the UKRI-funded Powerplant Integration of Novel Engine Systems (PINES) project will increase knowledge of fuel systems, fuel efficiency, and, importantly for next generation sustainable fuels, how new fuels might act whilst in use. Professor Mohamed Pourkashanian, Dr Spiridon Siouris and Dr Ehsan Alborzi from the Department of Mechanical Engineering are contributing research to this project, which will continue until July 2023.
In the engines of aircraft and other vehicles, deposits from fuel thermal degradation can build up and cause functionality issues which compromise the operation of the engine, and reduce the efficiency of the combustion. To help reduce the amount of coke that builds up, improve engine function and prepare for new sustainable fuels to be introduced, the PINES project aims to set up models to reliably predict the fuel's chemical composition as it passes through the engine, and therefore highlight areas for engine design that can assist in reducing deposit build up.
In particular, predicting deposits requires knowledge of the condition of the fuel from the initial stages of on-board storage up to the injectors prior to combustion. This project will further develop chemical and engine system modelling capabilities to be able to reliably predict the chemical composition of the fuel and the amount of bulk insolubles that can lead to deposit formation.
Specialising in chemical modelling, Dr Alborzi is researching chemical reaction pathways and kinetics for fuel thermal degradation, using quantum chemistry and optimisation procedures. The result of this is reliable chemical modelling of the fuel degradation process that takes place during thermal stressing. Such chemical models are then used by Dr Siouris to develop capability for whole engine fuel system modelling, including the effect of filter architecture on the fuel's chemical composition. Doing so enables the reliable prediction of fuel composition and propensity for deposit formation at any part of the engine's fuel system.
This research will benefit engine manufacturers by enabling predictions of the types of current and future fuels that will work most efficiently and effectively, and how much heat the engine fuels could withstand. The models will also improve the understanding of the variability of fuels and offer support to research into new, sustainable fuels.
Speaking about the project, Dr Siouris said: "We're excited to be taking part in the PINES project looking at fuel thermal degradation within gas turbine fuel systems. This is a continuation of a long-standing relationship between the University of Sheffield's Energy 2050 group and Rolls Royce for the development of new generation engine fuel systems. The PINES project is an important step towards reliably predicting fuel condition at any point in an engine's fuel system. Such capability can lead to improved engine designs that can pose less thermal stress to the fuel and therefore maintain high operating efficiencies leading to reduced CO2 emissions, as well as reducing downtime and expensive maintenance schedules."
Partner with us
We work with businesses to develop practical low carbon solutions for the energy industry.
Find a PhD
Search for PhD opportunities at Sheffield and be part of our world-leading research.