University of Sheffield researchers to help bring Green Industrial Revolution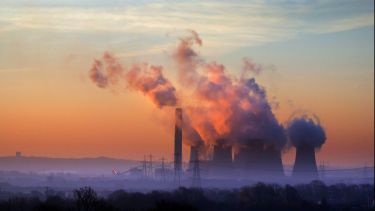 University of Sheffield researchers are part of a new centre to drive research and innovation to support the government's plans for a Green Industrial Revolution
The UKRI-funded research centre will work closely with industry to help reduce carbon emissions from industrial clusters
Researchers from the University of Sheffield Energy Institute are set to work with the Drax power station to generate hydrogen and sustainable aviation fuels from biomass gasification and carbon capture 
Researchers from the University of Sheffield are part of a new £20 million centre that is set to play a key role in driving research and innovation to support the government's plans for a Green Industrial Revolution.
The new UKRI-funded Industrial Decarbonisation Research and Innovation Centre (IDRIC) will tackle carbon emissions from industrial clusters. 
Led by Heriot-Watt University, the IDRIC will work closely with the UK's major industrial clusters to address the challenges of industrial decarbonisation alongside a diverse range of over 140 partners, including the University of Sheffield, as part of a drive to create the world's first net-zero emissions industrial cluster by 2040 and four low-carbon clusters by 2030.
The centre will collaborate with the University of Sheffield Energy Institute - one of the largest energy research teams in Europe that is dedicated to using transformational research, innovation and collaboration to address the UK's and the world's biggest energy challenges.
As part of the IDRIC, Sheffield's Energy Institute will use state-of-the-art equipment at its Translational Energy Research Centre to support a three-stage research project which aims to understand more about how the gasification of biomass with carbon capture could be used in producing hydrogen and sustainable aviation fuels, in partnership with the Drax power station.
This is a unique optionality driven project which will inform the centre's work in identifying and researching opportunities to reduce costs, risks, emission and timescale in industrial energy generation and use, as well as developing technology which focuses on moving away from fossil fuel-based energy. 
IDRIC is part of the Industrial Decarbonisation challenge, delivered through the Industrial Strategy Challenge Fund (ISCF) by UKRI, and part of the commitments set out in the Prime Minister's 10 Point Plan for a green revolution. The virtual centre will accelerate the transformation of industrial clusters into world leading low-carbon manufacturing hubs which will attract major inward investment, support job creation and underpin the UK's decarbonisation ambitions.
Professor Mohamed Pourkashanian, who is leading the University of Sheffield Energy Institute's involvement in the centre, said: "It is fantastic to be leading the University of Sheffield's involvement with IDRIC. The work we will be undertaking to generate hydrogen and sustainable aviation fuels from biomass gasification with carbon capture is at the cutting edge of zero carbon emission technology. 
"We look forward to participating in this large-scale project, which will help the region and the UK achieve its ambitions to cut industrial greenhouse gas emissions."
Partner with us
We work with businesses to develop practical low carbon solutions for the energy industry.
Flagship institutes
The University's four flagship institutes bring together our key strengths to tackle global issues, turning interdisciplinary and translational research into real-world solutions.