David Crystal Charity Lecture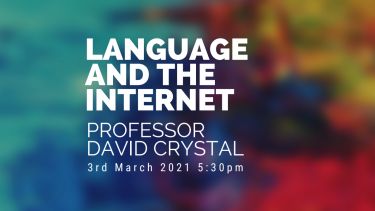 Thank you for attending David Crystal's charity lecture, titled "Language and the Internet", hosted and organised by EngSoc, the English Society at the University of Sheffield.
All of the money raised will be going to I Can, a charity that aim to help families develop the speaking skills of children through support programmes, outreach work, and intervention sessions, empowering all children and allowing them to realise their full potential.
If you are interested in learning more about linguistics, here are a few articles for you to read:
Bringing Keats Back to Life - This article from the New Yorker includes an interview with our very own Dr Ranjan Sen, detailing how he used his expertise in phonology, phonetics, and sound change to help recreate what the language of Keats would have sounded like. Physicists and engineers were also involved in the project, working to recreate Keats' skull shape, and how this might impact the resonating chamber of his voice. Ranjan's work on how the rhyming and stress patterns of Keats' poetry tell us about his accent was foundational for this recreation.
Voices From the Past - This is a symposium that was held at the end of 2021 in Oxford, with all of the scholars involved in the Keats project mentioned above. Other academics from the School of English that took part include Dr Chris Montgomery and Dr Graham Williams. The link includes a video from the symposium.
Thank you again for attending this charity lecture!
A world-class university – a unique student experience
Sheffield is a research university with a global reputation for excellence. We're a member of the Russell Group: one of the 24 leading UK universities for research and teaching.