Within the School of English at Sheffield, Film Studies is an area of expertise supported by a group of specialist staff.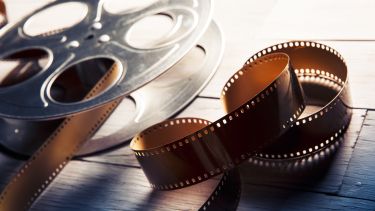 Off
Film Studies modules exist at all levels of the undergraduate programme and at Masters level, and researchers also pursue this discipline into PhD study.
English staff represent the majority of the membership of The Sheffield Centre for Research in Film (SCRIF), which was launched in 2012. The role of the Centre is to represent, support and propagate the wide range of film research, teaching and public engagement activity within the University (predominantly within the Faculty of Arts and Humanities), in collaboration with city partners (The Showroom Cinema and Sheffield Hallam University) and within the White Rose Consortium.
The Sheffield Centre for Research in Film (SCRIF)
English staff research and expertise in film cover areas include:
Film genres
Film authorship and auteur studies
Film and history
Documentary and docu-drama
British Social Realism
Cinema and landscape
Concepts of national cinema
Film Audiences
Australasian Cinema
British television drama
Social Class and Region in British Film and Television
Animals on film
Avant-garde and experimental film
Teaching and research also reflect long-term interests in concepts and manifestations of film authorship, including study of filmmakers as diverse as:
Joanna Hogg
Clio Barnard
Andrea Arnold
Steve McQueen
Andrew Haigh
Alfred Hitchcock
Shane Meadows
Peter Weir
Hayao Miyazaki
Claude Lanzmann
Warwick Thornton
Barbara Hammer
Lynne Ramsay
Gurinder Chadha
Chantal Akerman
Ruth Beckermann
Film is well represented in the School's postgraduate research culture. Successfully completed PhD theses have addressed highly varied topics including:
Everyday Life in Contemporary British Cinema
Narrative Theory and Contemporary Hollywood
Representations of Thought in European Art Cinema
The Holocaust on Film
British Social Realist Cinema
Film Adaptations of Shakespeare
Post-war Cruise Films (in collaboration with the film archive of the National Maritime Museum, Greenwich)
Early Cinema exhibition practices
Japanese Widescreen Cinema (a studentship supported by the White Rose Consortium)
Contemporary Japanese cinema and the films of 'Beat' Takeshi
Research initiatives and public engagement activities undertaken by English staff include:
Beyond the Multiplex, a three year AHRC funded project exploring the formation of audiences for specialised film
The Barry Hines project, a wide scale public engagement project examining the legacy of the working-class writer, Barry Hines
The 'Analysing Television Archives' Conference in 2009, which produced a special issue of the Journal of British Cinema and Television (2011),
'Exploring Television Archives' co-edited by Sue Vice and Christine Geraghty
The 游子 yóu zǐ Project, a visual study of identity and integration in the Chinese student community led by David Forrest;
The 'Sheffield Film Studies + Sheffield Studies Film' knowledge transfer and public engagement project, in which David Forrest and Jonathan Rayner worked with local school children on filmed images of the city.
The establishment of the ZooScope archive which brings together interpretations of the appearance of animals on film.
The on-going Cinema and Landscape project, which so far has spawned an international conference in 2010 and three collections of essays
'Subversive Britannia' film screening series at the Showroom Cinema in 2013, led by David Forrest, Matthew Cheeseman and Paul Bareham
Recent publications by film studies staff include:
Filmurbia: Screening the Suburbs
Social Class and Television Drama in Contemporary Britain
Barry Hines: Kes, Threads and Beyond
New Realism: Contemporary British Cinema
Jack Rosenthal the first full-length critical study of this screenwriter's work (2009)
Cinema and Landscape (2010)
Social Realism: Art, Nationhood and Politics (2013)
The Films of Michael Mann (2013)
Film, Environment and Visible Culture (2013)
Representing Perpetrators in Holocaust Literature and Film (2012)
Shoah (in the BFI Classics series) 2011
Recent essays and articles by English staff have appeared in publications such as:
The Journal of Japanese and Korean Cinema
Postscript
Studies in Australasian Cinema
Antipodes
The Journal of British Cinema and Television
New Cinemas: The Journal of Contemporary Film
Studies in European Cinema
Another Gaze
For more detailed profiles of staff with research interests in film, please follow the links below: