Accounting and Financial Management BA course structure
Every organisation needs strong financial leadership, and our BA Accounting and Financial Management modules will set you on the road to success.
This multi-disciplinary approach means that you learn practical skills to help you land the right job, as well as gaining the rigorous academic knowledge that you require to progress. We'll also put things into context - helping you to understand the role of accounting and financial management within an organisation. You'll learn how it affects a range of important areas in business, from budgeting and control to environmental issues.
Module information
Your first year introduces you to the two types of accounting - management accounting and financial accounting, with additional modules in economics, management and quantitative decision making.
Core 
| Module title | Credit value | Module description | Assessment method |
| --- | --- | --- | --- |
| Business Economics | 10 | This module shows how economic analysis can be used to understand and predict business decisions, and provides a description and discussion of macroeconomic issues affecting the whole economy. | Exam |
| Introduction to Management Accounting | 20 | The aim of this module is to establish a firm understanding the basic techniques of management accounting: classifying costs, conducting break-even analysis, preparing cost budgets and cash budgets, understand variances between standard and actual costs and appraising investments. | Exam, tests and tutorial assignments |
| Introduction to Behaviour at Work | 10 | This module provides insight into the study of human behaviour in work organisations, developing understanding of why people do the things that they do in organisations. | Exam |
| Introduction to Financial Accounting | 20 | Financial Accounting is concerned with the ways in which the financial transactions of a business are recorded and summarised in financial statements. This module provides an introduction to the construction of financial statements for sole traders and limited companies as well as an understanding and evaluation of the principles and concepts on which they are underpinned. It also focuses on the preparation, interpretation and limitations of company financial statements and the regulatory framework in which they are prepared. | Exam |
| Futures First: Professional Self Management | 10 | This module provides students with a structured and supported process to reflect upon their own learning, performance and achievement, and to plan for their personal, educational and career development. | Critical review, self reflection analysis and production of personal action plan |
| Introduction to Financial Management | 20 | This module introduce basic techniques and contemporary issues of financial management. It aims to build a basic knowledge of financial management and to provide a foundation for finance related level 2 and 3 modules. It is designed to help students learn basic problem solving techniques and to identify the interconnections between different disciplines within financial management, in particular, and within management, in general. | Online tests, coursework |
| Analysis for Decision Making (A/B) | 20 | Focusing on a variety of business problems, this module will demonstrate how quantitative techniques can be used to support effective business decision making. Students will be introduced to a range of quantitative techniques and tools which can be used to produce useful management information within a business context. Students will develop the ability to apply this knowledge and communicate the results of their analyses in a range of business situations. | Exams, group project, online quizzes |
Optional
| Module title | Credit value | Module description | Assessment method |
| --- | --- | --- | --- |
| Business Challenges | 10 | The module offers students the opportunity to work in autonomous groups to undertake one of a number of different business 'challenges'. These challenges involve students working on a range of practical business activities in which the outcomes involve not just a piece of assessed work but also, for some challenges, extra-curricular engagement and impact with external bodies. The nature of the challenges will vary over time to reflect the ongoing engagements with business and the local community. | Group presentation, team performance and personal reflection |
| Unrestricted module | 10 | An unrestricted module is a module from the same department or another department at the University that is available to all students, subject to availability and numbers. The modules may have other restrictions, such as requiring certain subjects at 'A' level or equivalent. | Varies |
In your second year, we build on your foundation knowledge and introduce more optional modules, giving you the chance to tailor your studies to an area you are most interested in.
Core 
Module title
Credit value
Module description
Assessment method
Intermediate Management Accounting
20
This module expands on the role of management accounting for management decision and control purposes. Particular emphasis is placed on the management accountant's various methods of analysing and presenting different kinds of information, drawn from both internal and external sources. Distinctions between the provision of management accounting services at strategic, executive and operational levels present the management accountant as centrally involved in the evaluation and implementation of alternative courses of action in organisations.
Exam and assignment
Intermediate Financial Accounting
20

This module expands on some of the concepts, techniques and skills acquired in level one, including reporting results of limited companies and groups of companies and the associated problems, how to apply accounting standards in treating specific situations and understanding regulatory frameworks.

Assignment, exam
Financial Management
20
The function of financial management is the acquisition and use of funds for investment purposes. Thus, this module focuses on ways of raising and deploying investment finance, the institutions that are involved and the
tools and techniques that are used when making financial decisions. Financial decisions are not isolated from the rest of society, so the unit also considers perspectives on the relationship between finance and society and the prospective impact of financial decisions on other parties. The study of financial management is not value-free, so the module also introduces different epistemological underpinnings of different approaches to financial management.
Exam
Choose one from:
| Module title | Credit value | Module description | Assessment method |
| --- | --- | --- | --- |
| Issues in Financial Management | 20 | This unit explores and critiques the assumptions underpinning the essential elements of traditional financial management theory (outlined in MGT 212), including notions of perfect information, market efficiency and human rationality. The unit introduces alternative perspectives regarding the nature of organisational objectives, stakeholders and power relations. | Exam, coursework |
| Introduction to Corporate Finance and Asset Pricing | 20 | This module focuses on quantitative and advanced aspects of finance and gives a solid foundation in principles of corporate finance and asset pricing to understand and analyse the major issues affecting the financial policies of corporations. The module covers the following topics: arbitrage and financial decision-making, Valuation for Bond and Equity, Advanced capital budgeting, risk/return trade-offs, portfolio theory, market efficiency, capital structure, payout policy, and options. | Exam |
Optional
Module title
Credit value
Module description
Assessment
Law for Management
20
This module provides a basic introduction to the core aspects of English law, with particular emphasis placed on areas of law directly significant to the business professional. The module reviews the essential structures of the English legal system and sources of law necessary to facilitate an understanding of the key substantive areas identified as of primary significance to the business professional. The module subsequently explores different aspects of the substantive areas of contract, tort and company law.
Exam, coursework
Budgeting and Control
20
This module expands students' knowledge of the behavioural aspects of budgeting and control, the criticisms of the annual budgeting cycle and attempts to overcome those criticisms.
Exam
Business Intelligence
20
Organisations are increasingly viewing business intelligence as a strategic weapon to improve their competitiveness in 21st Century corporate environments. This module uses case studies to illustrate the importance of business intelligence for organisations and to use data to aid decision making.
Project report and presentation, exam
Corporate Governance
20
This module is designed to provide you with an in-depth understanding of the key theoretical and practical issues underpinning the study of
corporate governance, and how they affect the governance of modern corporations.
Coursework, exam
Business Strategy
20
This module aims to enhance students understanding of the theories and practice of strategy. Students will be able to learn why, and how, companies make strategic decisions in the context of today's complex and dynamic world of business. Students will be introduced to various strategic analysis frameworks and learn how these can be used to help organisations better understand their strategic position and formulate feasible and suitable growth-oriented and competitive strategies.
Exam, group work
Career Management Theory and Practice
20
This module introduces students to the theory and practice of career management, both of one's own career and as future managers and employers. As well as exploring theories of career participants, the module will consider practical aspects of careers, for example transitioning into work; recruitment and selection process; marketing oneself and finding appropriate jobs.
Coursework, mock assessment centre participation
Quantitative Methods for Accounting and Finance
20
This module is concerned with the collection and analysis of data using statistical methods to support research studies and inform decision making in finance and accounting.
Exam, in-class test
Unrestricted module
20
An unrestricted module is a module from the same department or another department at the University that is available to all students, subject to availability and numbers. The modules may have other restrictions, such as requiring certain subjects at 'A' level or equivalent.
Varies
In your final year, we consolidate your accounting knowledge with advanced management accounting and advanced financial accounting modules. There are more optional modules to choose from, in subjects such as tax, auditing, investment and financial derivatives.
Core
| Module title | Credit value | Module description | Assessment |
| --- | --- | --- | --- |
| Advances in Management Accounting | 20 | This module is concerned with the past, present and future of management accounting theory and practice. | Exam, assignment |
| Advances in Financial Accounting | 20 | This module examines a number of accounting standards and addresses some contemporary issues in financial accounting. Students will be able to adjust a set of accounts to take account of reductions in, or reconstructions of, a company's capital, produce financial statements which account for the effects of changing prices, prepare consolidated financial statements for groups, vertical groups, associates and joint ventures, account for individual company transactions with a foreign company and prepare consolidated financial statements for groups containing a foreign subsidiary, account for financial instruments, identify a related party and know how to disclose related party transactions and make segmental disclosures. | Exam, assignment |
Optional
| Module title | Credit value | Module description | Assessment |
| --- | --- | --- | --- |
| Accounting and Accountability: Theory and Practice | 20 | This module challenges the traditional concepts upon which accounting processes, external reporting, and its regulation are based. In recent years accounting has been the focus of criticism from a number of quarters. Audit failure, the collapse of the western banking system, market volatility, inequality, and the unprecedented challenges to business presented by climate change compel the profession and its standard-setting authorities to reshape their notion of accountability in the face of changing societal expectations. | Coursework, exam |
| Auditing | 20 | Audit has crucial roles to play in the processes of corporate and social governance, relating especially to the transmission of information to financial markets and individual/groups to whom organisations are accountable. This module is designed to introduce students to the major issues in auditing theory and practice, making reference to current contexts. | Exam, assignment |
| Corporate Finance | 20 | The module covers more advanced topics in corporate finance, such as financing and investment decisions under asymmetric information. Debt financing, equity financing, hybrid financing, and mergers & acquisitions are also discussed. Some of the fundamental assumptions underlying corporate finance, the efficient market hypothesis, are challenged and an alternative approach to finance, behavioural finance, is reviewed. | Exam |
| Taxation in Theory and Practice | 20 | This module covers fundamental concepts such as equity, efficiency, burden, incidence, impact, income, structure and ethics. It also looks at the operation of the UK tax system, how companies and individuals calculate their tax liabilities and the development of the UK tax system in relation to social norms and government policy. | Exam, project/assignment |
| Case Studies in Accounting and Financial Management | 20 | As the accounting and finance academic discipline has developed, the repeated contrast between theory and practice has been held-up as a classic illustration of the value of studying accounting and finance thought and practices in the contexts of which they are part and in which they operate. | Individual and group assignments |
| Corporate Social Responsibility | 20 | This module seeks to provide an initial introduction to the key issues and themes that are emerging within the CSR field. It examines the pressures encouraging companies to adopt more ethical business strategies, the types of practices and strategies which different companies have sought to adopt in this field, and the potential advantages that are identified for a socially responsible business. | Exam, engagement in Peerwise exercise |
| Financial Derivatives | 20 | The use and complexity of derivatives has increased significantly over the last 20 years with market participants such as fund managers, traders, banks and treasurers using an increasingly diverse range of derivative instruments to hedge, speculate and undertake arbitrage. This module will start from first principles and will investigate how a wide range of derivatives are used, priced and regulated, with a core focus on quantitative methods. It will also cover key market developments and prepare students for working in a wide array of finance roles through a very practical teaching focus and the integrated use of Bloomberg. | Test, exam |
| Emerging Markets Finance | 20 | The unit provides an understanding of the financial system and of finance and investments in emerging markets. The unit covers the essential elements of finance in emerging markets as well as institutional and policy issues affecting emerging markets. The first part of the unit looks at the main characteristics of emerging market finance in the light of economic reforms leading to financial liberalisation and market openness. The second part looks at the role of financial markets in financial globalisation and the last part will focus on reviewing recent financial crises and the lessons for future developments in emerging markets. | Coursework, exam |
| Company Analysis and Valuation | 20 | The overarching aim of this module is to utilise a wide range of advanced techniques to analyse and value global listed companies in order to form an efficient investment portfolio. The module will be practical in nature using real time data and contemporary techniques used by leading fund managers and analysts to analyse companies. Topics will be based around the use of a Bloomberg terminal whilst also ensuring key academic theories are evaluated in light on current market conditions. | Coursework |
| Unrestricted module | 20 | An unrestricted module is a module from the same department or another department at the University that is available to all students, subject to availability and numbers. The modules may have other restrictions, such as requiring certain subjects at 'A' level or equivalent. | Varies |
Exemptions from accounting bodies
Some modules cover material from professional accounting examinations, which means that students are given exemptions with accounting bodies including ACCA, ICAEW, CPA Australia and CIMA.
Specialist business and finance databases
The Accounting and Financial Management programme provides you access to a comprehensive collection of specialist business and finance databases that are used by global companies, analysts and top researchers. These include Bloomberg, Refinitiv Eikon, Datastream, Thomson ONE, Compustat, MSCI, WRDS, CSMAR, plus many more. These give you access to market insights and the data that you need to complete your assessments, learn new skills, and become work ready.
 Trading room
The Management School has invested in an impressive fully-equipped financial trading room built around Bloomberg and Refinitiv Eikon. These terminals are used by traders, banks and multinational companies to trade financial securities, gain market insights and undertake research. Students are able to gain certification that demonstrates competence on these systems - a real value add for your CV and helps you hit the ground running when you secure your graduate job.
Further information about applying can be found on the undergraduate prospectus:
---
Placements
A placement year is an excellent opportunity to apply what you've learnt in your course so far and gain invaluable workplace experience. Placements take place between your second and final year of study and are usually based in the UK.
Find out more about placements
---
Student insight
You can also read more from our students on our blog. 
---
Your career
Futures First is our way of ensuring you graduate with more than just a degree. It includes our dedicated Employability Hub where you can access careers support, find job or placement opportunities, and develop essential skills through workshops with industry experts. You're supported throughout your course and for up to three years after you graduate.
More information about careers support
---
The content of our courses is reviewed annually to make sure it is up-to-date and relevant. Individual modules are occasionally updated or withdrawn. This is in response to discoveries through our world-leading research, funding changes, professional accreditation requirements, student or employer feedback, outcomes of reviews, and variations in staff or student numbers. In the event of any change we'll consult and inform students in good time and take reasonable steps to minimise disruption.
Information last updated: 17 April 2020
---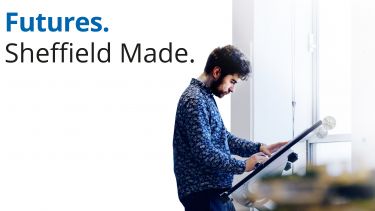 Undergraduate online open days
We're number one in the north for graduate employment. Find out why at our online open day on ​​​Saturday 17 October.