Finding student accommodation in Sheffield
Madeline shares some of the best ways to find student accommodation for after your first year.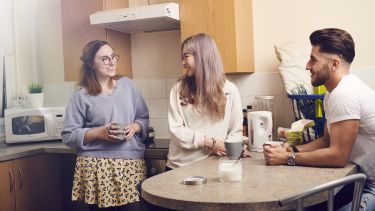 Off
University accommodation
The University of Sheffield offers student accommodation on campus. You can check the websites for more information on availability and costs.
If you decide to go back into university owned halls after your first year, this can be done! Either via the University or via privately owned student halls that you can find online. 
Private accommodation and housing
Often, after first year, students will decide to then live in a shared house for their remaining years of university. There are many private landlords and letting agents in Sheffield who offer student accommodation. You can search for properties on websites like Rightmove or Zoopla. You can also contact letting agents directly and ask them to send you a list of available properties.
Student housing websites
There are many websites dedicated to helping students find accommodation. Some popular ones include UniHomes, Unilodgers, and Student Roost. These websites often have a large selection of properties to choose from and offer additional services like virtual tours and booking assistance.
Facebook groups
There are many Facebook groups dedicated to finding accommodation in Sheffield. You can search for groups like "Sheffield Student Accommodation" or "Sheffield Student Housing" and join them to see listings and connect with other students looking for accommodation if you haven't found many people to live with.
Accommodation fairs
The University often holds accommodation fairs where local landlords and letting agents come to showcase their properties. These fairs can be a great way to see multiple properties in one place and to speak directly with landlords and agents.
Top tip
Remember to always read the terms of the tenancy agreement carefully and make sure you understand the costs and conditions before signing. It's also a good idea to view the property in person or via a virtual tour before committing to anything.
Happy house hunting!
A world-class university – a unique student experience
Sheffield is a research university with a global reputation for excellence. We're a member of the Russell Group: one of the 24 leading UK universities for research and teaching.