Management School colleagues recognised for excellence in learning and teaching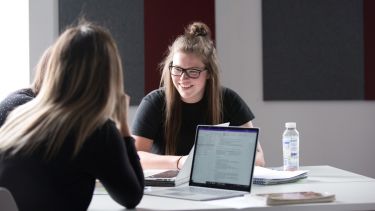 We are delighted to announce that a number of Sheffield University Management School colleagues have been recognised for their outstanding contributions to learning and teaching and commitment to professional development through the Higher Education Academy (HEA) and Certified Management & Business Educator status through the Chartered Association of Business Schools (CABS). 
Learning and teaching is central to the work that we do at the University of Sheffield. Staff apply for recognition as a fellow of the Higher Education Academy (HEA) through the University's Learning and Teaching Professional Recognition Scheme. The scheme was created to ensure all members of our University who teach or support learning have the opportunity to develop their practice and be recognised for this work whatever their role: academic, support or professional services staff. The dedicated scheme is aligned to the UK Professional Standards Framework (UKPSF) and stands as a mark of quality for higher education teaching and learning support.
The Certified Management & Business Educator (CMBE) scheme advances the development of those teaching business and management on an ongoing basis while also recognising teaching excellence. CMBE provides a measure of quality, enhances teaching practice, and is a demonstrable example of an investment in teaching resources. The scheme is designed for those who teach, or lead learning and teaching activities across a range of subjects aligned with business and management such as economics and accounting and finance.
The Management School would like to congratulate our new Higher Education Academy Fellows and Certified Management & Business Educators.
Fellowship Achievements 2018/19
Fellow of the Higher Education Academy (FHEA)
Dr Dragos Adascalitei 

Dr Stephen Allen 

Mustabar Awai, PhD researcher

Dr Evelyn Lanka
Senior Fellow of the Higher Education Academy (SFHEA)
Dr Sarah Brookes

Dr Stefan Cantore 

Dr Kristin Hildenbrand 
Certified Management & Business Educator (CMBE)
Professor Paul Latreille 

Dr Huiping Xian 

Dr Robert Wapshott

Mrs Andrea Ward
Andrea Ward, Associate Dean Learning and Teaching, said:
"I am absolutely thrilled that a number of colleagues have achieved professional recognition from the HEA and CABS. These awards are a recognition of our colleagues' commitment to excellence in learning and teaching and in business and management education which helps us to deliver a student learning experience of the highest quality."
A world-class university – a unique student experience
Sheffield is a research university with a global reputation for excellence. We're a member of the Russell Group: one of the 24 leading UK universities for research and teaching.