Student team claims third place in Universities Business Challenge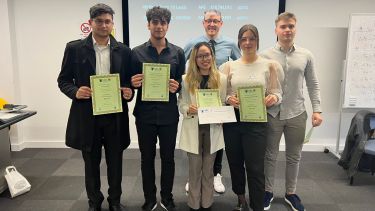 A team of five undergraduate students from Sheffield University Management School finished in third place of the annual Universities Business Challenge. Chi Nguyen, Twasin Rahman, Roksolana Rohozhynska, Furkan Karakoç and Alex Ionescu took part in the competition on the university's behalf and were delighted with the result.
The Universities Business Challenge gives students the opportunity to develop and test their entrepreneurial and employment skills, helping them to prepare for their future careers. The simulation-based competition has been testing students since 1998, with more than 35,000 participants. The competition involves team members collaborating to make decisions for their virtual company with the goal of increasing profits, building their market share and achieving high customer satisfaction levels. There is also emphasis on meeting sustainability targets, teaching students to make environmental considerations whilst managing a business.
Roksolana Rohozhynska, Business Management student, told us "Participating in a university business challenge was an unforgettable experience that brought a rollercoaster of emotions. It was a mixture of nervousness, confidence, and excitement for the results. Taking third place out of over 200 teams from all over the UK is an unbelievable success. UBC is an excellent place to challenge your knowledge and improve such skills as teamwork, problem solving, and financial planning. We are definitely coming back next year to get the trophy and bring the competition to Sheffield!". 
Chi Nguyen, Accounting and Financial Management, added "UBC is such a fantastic experience where I had the opportunity to work with amazing teammates, understand more about how a business runs and open my mind with the creativity of other teams from different universities. In the final and semi-final, I realised the significance of learning from mistakes, understanding the strength of each team member and utilising them at best for the whole team. I'm glad that this worked well and coming in third place is a well-deserved outcome for our hard work! I would highly recommend everyone to take part in UBC." 
Twasin, Business Management and Economics, described the competition process "Representing Sheffield in the UBC was an absolutely amazing experience. From the very first selection trials to the grand finals - all the trading periods and presentations shaped us into a team that truly enjoys doing what they do best. I've travelled to different cities, made friends with people who I never would have otherwise met and most importantly - had a lot of fun. UBC is definitely going to remain as a core memory of my first year at the university."
The Universities Business Challenge takes place annually and is open to Undergraduate and Postgraduate students. For more information, you can visit the competition website.