Professor Karen Niven
BSc, MSc, PhD
Head of Work Psychology Subject Group
Professor of Organisational Psychology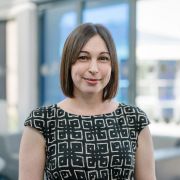 K.R.Niven@sheffield.ac.uk
+44 114 222 0987
B038, Sheffield University Management School
Full contact details
Professor Karen Niven
Management School
B038
Sheffield University Management School
Conduit Road
Sheffield
S10 1FL

Profile

I am a Professor of Organisational Psychology. I joined Sheffield University Management School in March 2022. Prior to this, I was a Professor and Head of the Organisational Psychology Group at Alliance Manchester Business School.

My research focuses on social relationships in the workplace, particularly how people influence the emotions of those around them and the 'darker' side of relationships (e.g. bullying, aggression). I have published in a range of organisational psychology, management and social psychology journals and co-edited two popular science books.

I currently hold an Associate Editor role at Organizational Psychology Review and serve on the Editorial Review Boards of Journal of Management, Journal of Organizational Behaviour, Human Relations, European Journal of Work and Organizational Psychology, and Journal of Applied Social Psychology.

Outside of work, my time is mainly spent parenting two small children, baking, and helping to renovate the dilapidated wreck my family and I like to call home!
Qualifications

PhD Psychology - University of Sheffield

MSc Work Psychology - University of Sheffield

BSc Psychology - University of Leeds
Research interests

My research focuses on social relationships in the workplace. I have two key research areas:

Interpersonal emotion regulation
Workplace mistreatment

My research on interpersonal emotion regulation focuses on understanding how and why we try to manage other people's emotions. Current projects include studying how the effects of interpersonal emotion regulation 'spill over' between work and home and 'cross over' between partners, and exploring the role of factors like personality and age in shaping people's ability to manage others' feelings.

In the area of mistreatment, my current research focuses on understanding how bystanders behave when they witness acts of mistreatment and exploring the role of targets' coping strategies in shaping ongoing mistreatment processes such as bullying.

I use a variety of methods, including diary studies, social network analysis, longitudinal and dyadic surveys, experimental designs and interventions.

My research has been funded by the ESRC, UKRI, Institution of Occupational Safety and Health (IOSH) and the Richard Benjamin Trust. I collaborate with colleagues in the UK, Spain, the Netherlands, Chile, Canada, USA and Australia.
Publications

Books

Edited books

Journal articles

Chapters

Reports
Research group