Studying Business Management has boosted my confidence

Titus Kuhora
SUMS alumni
BA Business Management
2019
Titus shares what it's like to study as an international student at Sheffield and why Sheffield gives you the 'best of both worlds'.
Why did you choose Sheffield University Management School?
The Management School being one of the best business schools in the world was a major factor that affected my decision to study at the University of Sheffield. Knowing that my degree is highly valued in my home country (Kenya) and in the rest of the world was a satisfying thought to have. While studying here at the Management School, I definitely see why the Management School is held in such high prestige. The quality of the content has helped me think much more logically and in a critical manner.
Furthermore, talking to friends who previously studied at the Management school praised the support systems and teaching quality that the University offers. They could not have been any more accurate. Lecturers are always free to help in case a student needs extra help with a certain topic or assignment. This is a comforting feeling, as I know that the lecturers care about my wellbeing and want to see me do my best in my degree.
---
The Management School's status as a leading school in the world (Triple Crown accreditation) was a major factor that affected my decision to study at the University of Sheffield. Knowing that my degree is highly valued in my home country, Kenya, and in the rest of the world was a satisfying thought to have.

Titus Kuhora

BA Business Management
---
Why did you choose the University of Sheffield?
I chose the University of Sheffield because of its student satisfaction ratings and its international nature.
Coming to University in a foreign country, I wanted a place that I would wake up every day with a smile on my face. The University of Sheffield has given me this. With one of the best Student Unions in the UK, there is always something going on. This enabled me to meet a variety of new friends and develop my personal skills in the process. Additionally, I have also been able to continue activities such as football and athletics which I actively participated in high school but at a higher level.
The international nature of the University of Sheffield really helped me settle into University life. Joining the East African Society, helped me meet people from my home country, which was of great comfort in my initial stages of university life. I have also been able to meet people from all around the world, as the University has students from over 125 countries. It truly is an international experience.
Why did you choose your course?
I choose to study BA Business Management, as it offers a diversity of modules. This appealed to me in two ways.
Firstly, the diversity of modules offered me the chance to develop a broad knowledge of various business concepts and theories. This is coupled with in-depth critical thinking which is expected from the lecturers. I believe that in the current business environment, the wide range of business acumen is crucial for success, not only as I start up my own business, but also if I decide to get a job.
Secondly, the diversity of modules, has allowed me to have a greater understanding of what line of business I would like to pursue. Coupled with initiatives such as the mentoring scheme, has allowed me to contact industry professionals to have a greater understanding of the industry.
What have you learnt during your studies?
Studying BA Business Management has given me greater self-confidence. Doing presentations in front of fellow peers, has allowed me to have greater confidence when talking to a wider group of people. Before I started studying at the Management School, I was not able to do this, without stammering. This confidence has also enabled me to be able to speak to people more, which has allowed me to become a more outgoing person.
My degree thus far has also helped further develop my teamwork skills. Doing group work, has taught me to contribute effectively in group setting and express myself. This has helped me during assessment centre job interviews, where I was expected to work in a group setting.
What is the format/approach of teaching and assessment here?
Whenever I have an issue, I never hesitate to ask. Furthermore, the interactive approach allows lecturers to understand the areas of the topic that the students have an issue with. This approach has helped me feel more comfortable interacting with lecturers and tutorial teachers more.
BA Business Management at the University of Sheffield also gives technical assessments. A case in point is the Essentials of Marketing module in my second-year of study. Here we were expected to make a marketing video concerning ethics. This module helped improve my technical skills, being able to edit videos and how to use a TV studio. This is a way that the Management School expands the skills and learning bases for students. This is crucial in a ever competitive job and business market.
What advice would you give to a new student about the join the Management School?
I would advise prospective students to be open minded as they come to the Management School. There are a variety of events, workshops and travel opportunities which the Management School offer to develop your skills. There is always something going on here!
One way to make the most of your time here at the Management School is by fully engaging in the events and activities that the Management School offers. Visiting the employability hub, could expose you to various opportunities including the scholarship summer school and employer talks from some of the UK's biggest companies including PwC and Morrisons. Such events could help you have a greater understanding of what employers look for when hiring, but also help you connect with your potential future employer.
What is it like to study in Sheffield?
Studying in Sheffield is an amazing experience!
Sheffield gives you the 'best of both worlds' I would say. Being able to maintain a social life, while at the same time be able to focus on your studies effectively. Being such an accessible city, I am able to see my friends by just simply walking to their place for 5-10 minutes! Furthermore, with there being numerous multi-cultural restaurants around the city, we are usually spoilt for choice as to which restaurant to choose.
After meeting my friends, I can focus on my studies. With the University of Sheffield having 4 libraries, it is easy to find a quiet place to sit and study! This is coupled with the fact that I am always able to find the book that I want through the library service to expand my reading (no wonder the University of Sheffield was voted number 1 in the UK for library services!)
What has been the highlight of your time at university?
The highlight of my time at the University of Sheffield, is representing the University during the Varsity futsal game.
Being able to represent the University was a great achievement. Seeing the support that fellow students give during varsity was amazing. This is testament to the University as a whole- it is a community which tries to support each other.
This is also my proudest achievement studying at the university of Sheffield.
What will you miss the most when you graduate?
I will miss the student life in Sheffield when I graduate.
Being in a university and a city which feels like a community, is something special. Getting involved in activities planned by the Students Union is also something that I will miss. This to me shows the amazing effort that the University puts in making the student base feel integrated into university life, and this is something that I not only admire, but also appreciate the university for.
It is honestly really hard to put how I feel about the University into words, as I believe that it is something so special that you just have to experience. This is why I believe that the University of Sheffield is number one for student experience in Russell Group Universities.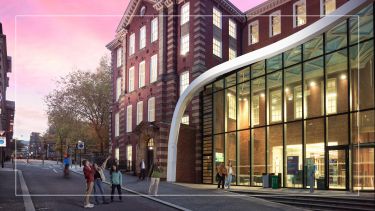 Visit us
Discover what sets Sheffield apart at our undergraduate open days on the Saturday 21 October or Saturday 18 November.