IICD is home to world-leading expertise in infectious diseases, host immunity, antimicrobial resistance, emerging infections and global health.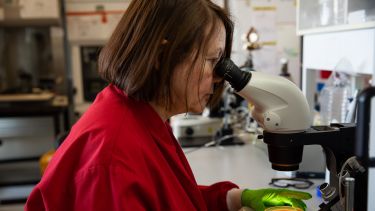 Professor Sarah Rowland-Jones co-leads the interdisciplinary Florey Institute  for host/pathogen interaction. This combines cell and developmental biology, stem cell biology, mechanobiology, imaging and mathematical modelling with translational biomedicine working with colleagues from biology and engineering).
In addition to work on HIV and Ebola, we have made significant impacts on COVID-19 research by integrating experts from immunity and infection, thrombosis, genomics, cardiovascular disease, pulmonary, vascular, and functional imaging with the Sheffield Teaching Hospitals NHS Foundation Trust's Laboratory Medicine and Infectious Diseases Directorates in a cohesive and collaborative effort. For example, we were the largest national recruiter to the Oxford COVID-19 vaccine trials in 2020.
We link expertise in human innate immune cell biology to non-mammalian models of infection and immunity in the Bateson Centre, leading to acceleration of advances from discovery to experimental medicine. We have had success commercialising our infection and immunity research, receiving significant funding to combat infection and treat immune deficiency syndromes.
Researchers in this theme:
COVID-19
University of Sheffield scientists are contributing to the fight against coronavirus
Sheffield Dermatology Research
Sheffield Dermatology Research comprises clinical and non-clinical staff with an interest in inflammatory skin disorders including atopic eczema (dermatitis), psoriasis, alopecia areata and vitiligo.
Nephrology
Kidney Research in Sheffield dates back to the 1960s with Dr Margaret Platts as the first Reader in Nephrology in 1965 and Mr John Williams (Consultant Urologist) who performed the first kidney transplant in 1968.
Flagship institutes
The University's four flagship institutes bring together our key strengths to tackle global issues, turning interdisciplinary and translational research into real-world solutions.