International Relations and Politics Graduate recognised as a Highly Commended Entrant in the Global Undergraduate Awards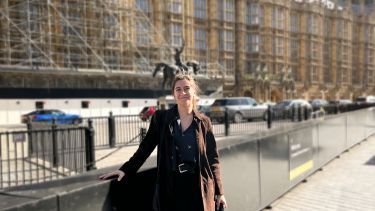 Recent BA International Relations and Politics graduate Aisha Mahal has been recognised as a Highly Commended Entrant in the world's leading academic award programme, the Global Undergraduate Awards, in the Politics and International Relations category. Aisha was one of nearly 3,000 submissions of outstanding undergraduate academic work, making this a remarkable achievement. 
Receiving the highly commended award for my essay felt very affirming. I try to write about issues and causes that I believe are important, so to be recognised for my analysis on drug policy, from a critical and intersectional feminist perspective, was both empowering and encouraging. It made me excited to keep pursuing opportunities for publication in the future, while pushing for change in the fields of politics and policy.

Aisha Mahal

Highly Commended Entrant, Global Undergraduate Awards 2022
In addition to her exceptional performance as an undergraduate student, Aisha has made a huge contribution to the Department of Politics and International Relations by supporting  with the successful execution and completion of an Impact and Knowledge Exchange project in her role as Project and Research Assistant. The project, "UK's gender practice in aid and security", aimed to assess and compare the UK's gender equality practice in its 'security and development' policy in Iraq.
Aisha was responsible for organising an international workshop in Amman where she was required to engage with actors in the third sector as well as government and academic partners, manage large budgets, and tackle complex sets of international logistics.
Furthermore, she provided excellent research assistance to the project and contributed to the writing of the project report  Listening to Women's Rights Organisations: UK's Gender and WPS Policy in Iraq alongside Project leader for the Impact and Knowledge Exchange project, Dr Zeynep Kaya. The project report was launched in Parliament earlier this month.
It was an absolute pleasure to work with Aisha and I am very proud of all her wonderful achievements. She was my student on two third year modules last academic year during which she distinguished herself as an intelligent, perceptive, and hardworking student with original thoughts. Throughout the project Aisha took the initiative every step of the way to ensure smooth running of the project and completed all the tasks with great efficiency. Her enthusiasm, positive attitude, and problem-solving ability were truly impressive.

Dr Zeynep Kaya

Impact and Knowledge Exchange project leader and lecturer
Explore the University
Discover why Sheffield is the right choice for you at one of our open days or events.