New podcast: Women at War and its Aftermath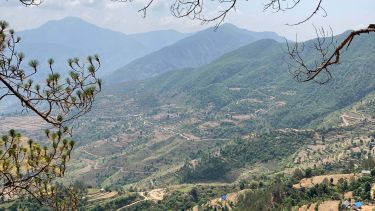 'Women at War and its Aftermath' is a new, story-based podcast created and hosted by Dr Hanna Ketola (University of Sheffield) and Swastika Kasaju (consultant in international development). This podcast emerged from Hanna's ESRC research project 'The Politics of Women's Agency: gender and peacebuilding in post-conflict Nepal', which explored questions of women's agency in the context of peacebuilding in Nepal, focusing on experiences of women ex-fighters and women engaged in collective mobilisations around the issue of enforced disappearance. 
In the first series, Hanna and Swastika discuss stories of women who experienced the Maoist 'People's War' in Nepal (1996-2006). What does it mean to be an agent in war, or in peace? How might women's involvement in politics take many forms? Discussing these questions Hanna and Swastika also weave in stories about doing research - reflecting on the moments of frustration, anger, joy, and complex relations of power that accompany research encounters. They hope that centering these often untold stories whilst highlighting the complexity of the research process can shine a new light on women at war. 
I wanted to find a way to communicate the nuance of the stories that emerged through my PhD field research - stories that have now stayed with me almost a decade. I thought that a podcast would be an interesting way to delve deeper into not only the narratives the women shared but also the research encounters themselves - who was there, what happened, what sparked the stories? I am so excited to co-host the podcast with the amazing Swastika Kasaju. I hope that through the podcast we will reach audiences outside the readership of academic journals, and spark an interest in stories of women at war beyond headlines and one-dimensional representations.

Dr Hanna Ketola
Come and join Hanna and Swastika at the podcast launch on Thursday 10 November 2022. The event is part of the ESRC Festival of Social Science.
Book your place to the free event here:
---
What can I expect in this first series?
The first episode features an encounter with Aayushma who is active in the victims' movement. She tells about her experiences of meeting researchers, and how she navigates these interactions. In the second and third episodes we delve deeper into the stories of women engaged in the victims movement - what does it mean to do 'victims' work', what kinds of contestations and solidarities emerge between the women activists and established human rights NGOs? How to navigate this as a researcher? The fourth and fifth episode turn to the stories of women ex-PLA fighters - how did the women who contributed to the Maoist movement understand the struggle and their own contribution? How did they first get involved? What does it mean to be 'tired of politics'? And how to engage with this statement as a feminist researcher?
The podcast is available now on all main podcast providers, including spotify, apple and google.
Flagship institutes
The University's four flagship institutes bring together our key strengths to tackle global issues, turning interdisciplinary and translational research into real-world solutions.