We support eligible students to receive grants, bursaries and scholarships, enabling them make the most out of their learning and overall student life experience. Alongside this, the University provides free and accessible healthcare and wellbeing to all staff and students (Home and International).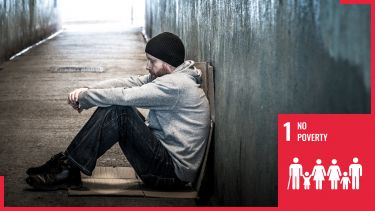 On
Key facts for how we are achieving SDG1
The University of Sheffield is 1st in the Russell Group and 6th out of all UK universities for widening participation
We provided financial aid to over 5,000 low income students in 2021
Sheffield is the 3rd most affordable student city in the UK according to The Royal Bank of Scotland's Student Living Index 2022
The University works with 800 students a year across a range of access programmes
11% of our home undergraduate students come from low participation neighbourhoods in 2021
Signatory of the Care Leaver Covenant, providing enhanced support for students arriving at university from a care background
As of August 2022 our minimum pay rate is currently £11.03 per hour, which is in excess of the Voluntary Living Wage foundation's recommendation.
---
Students can receive a bursary of up to £1,000 per year of study under the University of Sheffield Bursary Scheme. This financial assistance supports our students whose household income is £40,000 a year or less whilst studying at Sheffield. There is additional funding on top of this bursary of £250, for our students whose household income is £25,000 a year or less and if they live in one of the country's most deprived areas. There are a variety of other bursaries available, with bursaries for care leavers, estranged students and those students with caring responsibilities reaching up to £10,000 per academic year.
The University has also offered and continues to offer course specific bursaries.
Additional bursaries are available under the access travel bursary, which will refund coach or rail travel for prospective students travelling directly to and from Sheffield to attend an undergraduate open day on campus. Prospective students must be eligible to receive this bursary, this includes those who are living in POLAR3 quintile 1 or POLAR4 quintile 1 postcode areas across the UK, with low participation rates to higher education, based on POLAR classifications as part of Office for Students.
---
We're offering 150 Experience Sheffield Scholarships worth £3,600 each for home fee paying students starting their studies in September 2022.
Students must meet certain criteria in order to be eligible for these scholarships, and are designed to ensure students they are financially supported whilst at university.
Study Abroad Scholarships
We are excited to announce we have £500 scholarships on offer to students in receipt of a University of Sheffield bursary who will go on a year or semester abroad in the academic year 2022/23. These awards are being made to eligible students who are studying in the EU and those studying outside the EU by the end of June. 
Additional study abroad scholarships are available at the University and can be found here.
---
Access Sheffield
We recognise that academic abilities are not always reflected in A Level results, and that other wider factors are at play which influence the outcome of grades. At Sheffield, we offer additional support to prospective students who show academic potential at university, who meet certain eligibility criteria, by adjusting degree offers (of up to two grades below the standard course requirement) to these students to greater the chance of those students reaching the minimum entry requirements.
---
Support for care leavers
The University of Sheffield is a member of the Care Leaver Covenant (CLC), which commits us to provide enhanced support for students leaving care to help them move to independant living. Sheffield-led research found that more than half of students who had all spent time in care seriously considered dropping out of higher education and 68 percent experienced mental health problems whilst studying. The research made 15 recommendations for how universities could improve their support for care-experienced students, which were endorsed and championed by the CLC.
Find out more about our support for care leavers.
---
Sheffield is one of two universities in the country to offer its own University Health Service to students. The University Health Service includes free sexual health services, as well as access to GPs, clinics and prescriptions. If you are an International student, you won't be charged for the care you receive at the University Health Service, as this is free to all overseas visitors. 
Alongside this, both staff and students can access free wellbeing support for mental and physical health. For students this includes counselling services through the Student Mental Health Counselling and Therapies Service.
Our sustainability strategy
We have set the principles and direction for our sustainability strategy