SDG7: Affordable & Clean Energy
In an increasingly digital world, energy underpins more and more of what we do. Divesting in fossil fuels and investing and researching in renewable energies, Sheffield is committed to working with industry and communities to decarbonise energy and heating in the UK and worldwide.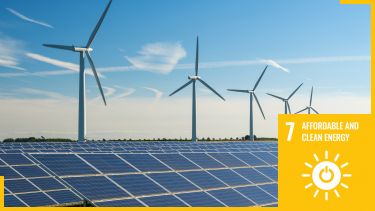 On
 Clean energy is imperative for a green future for not just our university but for us all.
Key facts for how we are achieving SDG7
100% of energy used in research, teaching and administrative buildings and at the AMRC is from wind, solar and hydro power
The University of Sheffield is a founding signatory of the COP26 Climate Expectations declaration
Electric vehicle charging points for staff and visitors across campus, with pedestrianised areas to encourage walking and cycling
Carbon neutral campus target: 2030, with the aim of a fully carbon neutral university by 2038 in all activity
Research and industry partnerships by the University's flagship Energy Institute are developing renewable energy supplies, reducing the emissions of traditional energy production and decarbonising cities and industries
The Advanced Resource Efficiency Centre combines business partnerships and researchers to develop national and international policies that prioritise energy efficiency
---
The University's 2020 Sustainability Strategy details a five-year plan to achieve a net-zero University campus by 2030 (Scope 1 and 2). It covers aspects such as sourcing renewable energy for the University, offsetting carbon emissions responsibly, divestment from fossil fuels, maximising energy efficiency in our buildings, and research and innovation into renewable energy in Sheffield and beyond.
---
Energy generation
Heat and electricity are a huge part of the University's carbon footprint. All of the purchased electricity used on campus comes from 100% renewable sources through our contract with Bryt Energy. The University has also upgraded heating infrastructure across campus; a new low-carbon Combined Heat and Power (CHP) plant burns gas to heat University buildings, and any leftover heat is converted into electricity. In the new Social Sciences building on Northumberland Road, boreholes will be used to extract heat from the ground in winter and store it in summer to maintain the perfect temperature year-round. 
---
Going Solar
The Microgen database encourages owners of solar arrays all over the UK to record the outputs of their solar panels, in exchange for performance analysis on their systems. The existence of this dataset allowed Sheffield research teams to partner with National Grid ESO and tech company PassivSystems to create a model that uses real-time information about solar energy outputs and data from the past to forecast how much solar power will be generated in the future. National Grid ESO uses this information day in, day out, to make sure the UK has enough energy and minimise carbon emissions.
Global Energy Access
Working in collaboration with Mobile Power Ltd, engineers from the department of Electrical and Electronic Engineering have developed reusable, solar-charged battery packs to improve access to clean, affordable electricity in Sierra Leone. These battery packs can power a village or a vehicle, and are light enough to be easily transported to and from a solar array for charging. Improving access to solar energy means locals in Sierra Leone can engage more easily with activities that rely on electricity – including communications and commerce – without the need for heavily polluting diesel generators.
---
Sustainable Energy in South Yorkshire
Launched in March 2022, the South Yorkshire Sustainability Centre links local authorities, local businesses and charities, and researchers at the University of Sheffield to produce innovative solutions to sustainability in South Yorkshire and around the world. Researchers at the Energy Institute are leading the way on a number of projects with the Sustainability Centre to design and implement sustainability strategies. These include developing a roadmap for decarbonising new and existing housing across South Yorkshire, reducing the carbon emissions associated with heavy industry using detailed process modelling, and a project to help small and medium-size businesses reduce their emissions.
Green Energy Development Partnerships
The Energy Institute has partnerships with other companies and industry groups to drive research into decarbonisation, and generating and using renewable energy. They are working with the Zero Carbon Humber Partnership to reduce emissions in the Humber industrial cluster, the most carbon-intensive industrial area in the UK. The University's Nuclear Advanced Manufacturing Research Centre (Nuclear AMRC) is helping to develop a low-carbon hydrogen plant. This plant will power nearby industries using renewable energy from hydrogen, and help industrial sites and power stations to capture and store the carbon released from their processes.
---
Regional
Aviation
A new centre that will lead research, innovation and commercial testing of sustainable aviation fuels - the first of its kind in the UK - is to be built by the University of Sheffield.
SAF-IC will be a development hub for the research and scaling-up of sustainable aviation fuels, offering laboratory and testing space as well as coordination and networking facilities.
Learn more about the University's Sustainable Aviation Fuels Innovation Centre 
Clean energy
he University of Sheffield's Translational Energy Research Centre will be opening for use as a research, testing and innovation facility for academics and industry partners.
Part-funded by the European Regional Development Fund and the Department for Business, Energy and Industrial Strategy, the £21 million centre houses exciting pilot-scale rigs, some of which are the first of their kind in the UK, and will support research into zero-carbon solutions and renewable energy across a range of areas.
Translational Energy Research Centre: opening soon to support key energy research and development
Global
A project funded as part of UKRI's Global Challenges Research Fund (GCRF) Collective Programme and is a collaboration with the University of York, World Agroforestry (ICRAF),  Stockholm Environment Institute, Teeside University, Centre for Research in Energy and Energy Conservation, and African Centre for Technology Studies, addresses East Africa's energy challenges.
Researches have identified project implementation sites in Kenya and Uganda to install Agrivoltaic energy systems which generate clean and renewable solar energy, as well as provide a favourable environment for  crop productivity by providing shade to plants that would otherwise face heat stress and great water loss due to high temperatures and low rainfall.
Read more about the Harvesting the sun twice research.
Our sustainability strategy
We have set the principles and direction for our sustainability strategy