Energy Institute members to play vital role in new regional sustainability centre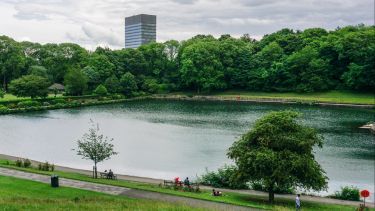 From decarbonising homes, transport and industry to creating a 'green hub' for SMEs, our academic members are taking action to drive South Yorkshire towards a net zero emissions future. 
The South Yorkshire Sustainability Centre (SYSC) was announced by South Yorkshire Mayor Dan Jarvis, and will bring together researchers, businesses and organisations across the region to co-design solutions to regional and global sustainability challenges. SYSC will be led by the University of Sheffield, in partnership with the South Yorkshire Mayoral Combined Authority, the four South Yorkshire local authorities, Sheffield Hallam University, and a range of private and voluntary sector organisations.
The centre aims to help translate research into tangible outcomes which will help to not only implement environmental solutions to sustainability challenges, but also balance them against economical and social factors. These outcomes will be reached through several 'work packages' and projects, some of which are being led by academics from the Energy Institute. 
Professor Lenny Koh, management team member, is leading a work package on Sustainability Assessment and Supply Chain Innovation. Her work, alongside others, will help to identify hot spots in supply chains along with regional and local sourcing that can help stimulate SME involvement and technological innovation, as well as considering supply chains and infrastructure sustainability throughout the region. 
Professor Martin Mayfield is leading on the theme of Residential and Transport Decarbonisation, which will develop fundable building retrofit pathways that are optimised to improve health and wellbeing. Within this overarching theme there are three further projects, one led by Dr Danielle Densley-Tingley which aims to develop a regional retrofit optimisation platform, and one led by Dr Sol Brown which will produce a roadmap for the decarbonisation of housing in South Yorkshire. 
Professor Mohamed Pourkashanian, Head of the Energy Institute, will jointly lead a theme on Industrial and Commercial Decarbonisation with Dr Rachael Rothman, who is also the Director of SYSC. This theme will support SMEs to address their emissions by developing a knowledge base and best practice guide to go alongside carbon literacy training. The theme includes two projects, one led by Dr Rothman and Dr Brown, which will deliver a case study of decarbonisation for two heavy industries through process analysis and systems modelling, and one led by Alix Johnstone-Morfoisse of the Translational Energy Research Centre and Professor Pourkashanian, which will establish a 'green hub' to support SMEs. 
Centre Director, Professor Rachael Rothman, said: "The South Yorkshire Sustainability Centre will bring together academic expertise from across Sheffield's two universities to address specific regional challenges. It is important to look at sustainability challenges holistically; ensuring that in our urgent drive to reduce emissions we are also considering the economic and social impact, and opportunities, of the solutions we propose. We are looking forward to working with organisations of all sizes to assess the opportunities to work together to decarbonise for the future. While we have identified initial projects for the centre, we also have some funding for future projects and we are keen to hear from organisations that would like to work with us to co-design solutions to regional sustainability challenges." 
Partner with us
We work with businesses to develop practical low carbon solutions for the energy industry.
A world-class university – a unique student experience
Sheffield is a research university with a global reputation for excellence. We're a member of the Russell Group: one of the 24 leading UK universities for research and teaching.