Sheffield Archaeology student wins Barzun Prize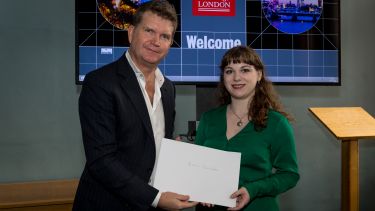 Emma Schlauder, one of our MSc Human Osteology and Funerary Archaeology students and Fulbright scholar has won the Barzun Prize! 
Matthew Barzun served as US Ambassador to the UK from 2014 for 3 years. During his time in the UK he made it his mission to spend as much time as possible speaking to young people, especially sixth formers. He engaged actively with the work of the Fulbright Commission, and on leaving he and his wife made a gift to the Commission to carry on the spirit of his work and build on his legacy. 
Ambassador Barzun's vision was that both nations will understand each other that much better through listening and learning from each other and his main goal was to engage with young people, especially those within the 16-18 year old age category. With this in mind and to build on his legacy, he created the Barzun Prize. The goal was to engage with young people local to your place of study in the UK through voluntary activity. Working with a local group of people, you must propose a project which will successfully fulfil this goal, and win the opportunity to deliver this project yourself with the assistance of $10,000 in funding.
Emma had to submit a three minute selfie video describing her project, explaining how her idea fulfils the vision, how she will achieve it, and what impact it could have on the local community. The entries were judged by Ambassador Barzun and the Embassy Commissioners and the announcement was made at Forum in January.
The prize provides $10,000 in funding towards the delivery of Emma's project, including travel and equipment. Her project involves archaeological work at Elsecar, which is a collaboration the Department of Archaeology are developing at the moment.
A world top-100 university
We're a world top-100 university renowned for the excellence, impact and distinctiveness of our research-led learning and teaching.