Sanctuary Scholarships - Full Time
Full-time English language course scholarships for those who are seeking sanctuary in the UK or affected by war in their home countries, for example students who have been displaced or affected by the Russian invasion of Ukraine, offered by the English Language Teaching Centre.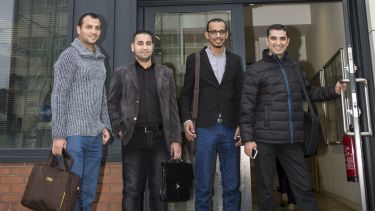 We are pleased to offer 4 scholarship places for those who have sought refuge in the UK. There are places on the following English language courses:
Pre-sessional English - a course for those who have a conditional or unconditional academic offer for a degree course at The University of Sheffield.
University English - a general English course for those who want to improve their overall English language skills for a variety of educational, personal and professional reasons.
It is possible to start classes on University English and move to Pre-sessional English once you have an academic offer for a degree course at The University of Sheffield.  
The scholarships cover the cost of tuition fees only. Computer equipment, internet access and other costs are not included
---
Scholarship application criteria

To be considered for the scholarship you must:

Ideally live in Sheffield or be able to travel to Sheffield for the course.
For a Pre-sessional English scholarship you must have a conditional or unconditional offer for an undergraduate or postgraduate course at the University of Sheffield (if you are applying for a pre-sessional English course) and be studying at degree level in the UK for the first time (applicable to undergraduate students only).
An academic offer is not necessary to apply for the University English course.
Have been granted humanitarian protection or limited leave to remain in the UK, be a dependant or partner of someone with humanitarian protection or limited leave to remain or you or your parent/guardian or partner are an asylum seeker and have submitted a claim within the UK for refugee status and have not yet received a decision from the Home Office on that application.
Have applied for asylum on arrival in the UK and before you have applied for a place on an ELTC course.
Be unable to access mainstream funding, for example student finance or local authority grants.
Provide all the documentation you have received from the Home Office in relation to your asylum / limited leave to remain in the UK claim.
Meet the entry requirements for your chosen course. For more information please see the relevant course webpages. If your level of English is too low, you will not be considered for a scholarship.
Be available to fully engage with the course, Monday to Friday, as 100% attendance is expected. Applicants can only be sponsored for more than one term if they have 90% or over attendance.  Progress will be discussed with teaching staff.

Further information and eligibility requirements

If you have exhausted all appeal rights and have neither submitted a fresh claim for asylum or an application to remain in the UK under another immigration category, you will not be able to study at the University of Sheffield.
If your status changes throughout the application process or at any point prior to or during your studies, you must notify the University immediately.
If you have or receive a 'no study' immigration bail condition or a 'restricted study' condition that prohibits study at the University of Sheffield, you will not be permitted to study at the University.
If at any point during the application process or after you start your studies, we are informed by the Home Office that you should not be studying at the University, you will no longer be eligible for the scholarship. We will deem you withdrawn and you will be expected to leave your studies immediately.

Selection process

This is a competitive process and not all applications will be successful; a panel of senior members of University of Sheffield staff will select the strongest applications.
If your application is taken forward, we may invite you for an interview to clarify the information you have provided in your application.
All scholarships are discretionary.
The University may contact the Home Office to verify your immigration status in the UK.

Student Support

 

The ELTC has a dedicated Welfare Officer who offers student support, advice and help to our students. Our advice is designed for English language learners and outlines the services available to help students solve any problems they might experience. We also offer a social programme of activities and events to help students make friendships and connect with others people in our University community. 

 

Students on our courses join the University of Sheffield community. You can access specialist advisors, societies and services. 

 

Further Information

 

Information about some of the services available at the University and life as a student in Sheffield can be found here: 

If you have any questions about how we can support your studies, or if you would like to talk to someone from our team please email us at 

eltc.support@sheffield.ac.uk

 

More information about living in the UK and managing your money can be found here: 

Information for Under 18s

Our courses are designed for adults. Applicants who are under 18 are subject to a number of restrictions and administrative procedures. 

The standard minimum age for our courses is 18 years. However, we will consider applications from applicants who are under 18 in some circumstances, and subject to satisfactory guardianship arrangements being in place. Please contact us for more information.

For further information on under 18s at the university please visit our Students under the age of 18 webpage.
---
How to apply
We are currently accepting applications for scholarships for the 2021-22 academic year.
To apply for a scholarship there are two steps.
Step 1: Please complete and submit our expression of interest form:
Expression of Interest Form
Step 2: After completing the expression of interest form, please send scanned copies of the following documents by email to eltc.support@sheffield.ac.uk
Photo page in your passport and visa page or BRP
Any asylum or Home Office documentation
Any proof of English or proof of English language study, (ideally an IELTS certificate)
A personal statement explaining how this course will benefit you
A reference from a school, college, community group or voluntary group who will support your application
Our staff will then check your eligibility for the scholarship and contact you with instructions on how to complete a full application.
---
Further information
If you have any unanswered questions or require any further information about the scholarships, please contact us directly at eltc.support@sheffield.ac.uk
A world top-100 university
We're a world top-100 university renowned for the excellence, impact and distinctiveness of our research-led learning and teaching.