Energy Institute project to make drinking water safe in Egypt is shortlisted for the 2020 Newton Prize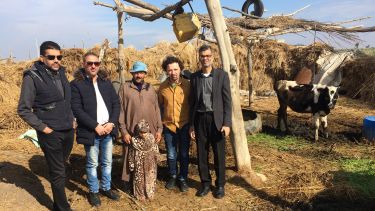 A project led by Director of the Energy Institute Professor Mohamed Pourkashanian has been shortlisted for the 2020 Newton Prize. The project, part of collaborative research between the University of Sheffield and Port Said University in Egypt, aims to develop a novel membrane water desalination pilot plant driven by a hybrid of solar-biogas energy sources, which will provide fresh, safe drinking water for rural communities using renewable energy. 
The Newton Prize celebrates the outstanding international research partnerships that play an important role in addressing challenges in the global south and around the world. The 2020 shortlist has chosen 27 research and innovation projects between the UK and Egypt, Jordan, Kenya, South Africa and Turkey which address critical development challenges such as the climate crisis, poverty and global health. 
The shortlisted University of Sheffield project in Egypt is in partnership with Professor Ayman Ibrahim Mohamed of Port Said University in Egypt. The team's work has seen the construction of a biosolar system, powered entirely by solar energy and biowaste, which uses a distillation membrane to produce water from sources that would not otherwise be safe to drink, such as seawater. The system addresses two of the main problems faced by the rural population of Egypt: limited fresh water resources and inadequate waste management. 
The project's investigators, Dr Mohammed Ismail and Dr Davide Poggio, both from the University of Sheffield's Department of Mechanical Engineering, modelled and designed the system based on the water demand and the available resources of the Egyptian communities they had visited.
A pilot plant now exists to demonstrate the technology, and can produce 1m3 per day of safe drinking water. It will be soon made open and demonstrated to policy makers, NGOs and SMEs. It is hoped that, with this, a business model for the technology is developed to be used by the local community to build replicas of the pilot plant for the rural communities where fresh water is most needed. It is also planned that the plant is adapted to provide a secure source of energy and a sustainable approach to treating bio-wastes. 
The £1 million Newton Prize fund will be split between five winners, with one prize of up to £200,000 to be awarded to a project in each eligible country. In November 2020 the shortlisted projects will be celebrated at a virtual awards event and the winning projects for each category will be announced.
Speaking about the news, Professor Pourkashanian said: "I am very pleased that this important project has been recognised by the Newton Fund. It highlights the vital global development challenges that energy research can help to solve, and recognises the international partnerships that we value in helping us to improve our world's resources through world-class research." 
Newton Prize Committee Member, Professor Dame Jane Francis, Director of the British Antarctic Survey, said: "The Newton Prize generates some amazingly innovative ideas from many nations in partnership with the UK.
"It's inspiring to read proposals that cover a wide range of important topics, ranging from how renewable energy will improve village life, how children's health can be improved, how coastal communities can be protected, how waste can be turned into power, and how we can learn from past human rights violations. Serving on this committee is an extremely rewarding experience."
Partner with us
We work with businesses to develop practical low carbon solutions for the energy industry.
A world top-100 university
We're a world top-100 university renowned for the excellence, impact and distinctiveness of our research-led learning and teaching.